Juan María Montalvo y Fiallos (Ambato, 1832) was an influential Ecuadorian author, essayist, and formidable polemicist whose writings had a significant impact on the political landscape of his time. Known for his notable works such as "Las Catilinarias" (1880) and "Siete Tratados" (1882), Montalvo exhibited a fiery, unapologetic style, often challenging and criticizing the political status quo. As a political liberal, his beliefs were characterized by anti-clericalism and a fierce opposition to the authoritarian regimes of Gabriel García Moreno and Ignacio de Veintemilla. Despite facing exile multiple times, his penetrating critiques and commitment to democratic principles left a lasting legacy in Ecuador and beyond. Montalvo's audacious spirit, combined with his eloquent prose, positioned him as a key figure in Latin American literature, while his life and works continue to symbolize the power of the written word as a tool for political change.
Early Life and Family Background
Born as Juan María Montalvo y Fiallos on April 13, 1832, in Ambato, Ecuador, Montalvo was the result of the confluence of cultures and experiences. His grandfather, José Santos Montalvo, originally from Andalucía, migrated to América and after several years working across Panama, Venezuela, and Colombia, settled in Ecuador as a fabric seller. Here, he met and married Jacinta Oviedo and had many children, one of whom was Marcos Montalvo, the father of Juan Montalvo.
Marcos Montalvo, following in his father's footsteps, worked as a traveler and fabric seller. During one of his business trips to the small town of Quinchicoto, near Ambato, he met María José Fiallos. They married on January 1, 1811, in the church "La Matriz" in Ambato. Thus, Juan Montalvo was born into a family whose roots intertwined between the Old and New World.
Education and Diplomatic Career
Raised by his parents, José Marcos Montalvo and Josefa Fiallos, in Ambato, Juan Montalvo left home to study philosophy and law in Quito. In 1857, he began serving diplomatic posts in Italy and France, a tenure that lasted until 1859. This period marked the inception of Montalvo's political beliefs that were firmly rooted in liberalism. He displayed strong anti-clerical views and an intense dislike for the two caudillos that ruled Ecuador during his life: Gabriel García Moreno and Ignacio de Veintemilla.
Political Activism and Exile
Juan Montalvo's life took a significant turn when an issue of El Cosmopolita, which he edited, fiercely attacked Moreno. This led to his exile to Colombia for seven years. Interestingly, Moreno's assassination was attributed to Montalvo's writings, showing the power and impact of his pen. Despite this controversial episode, Montalvo remained a committed advocate of democracy and a fierce opponent of the writer Juan León Mera.
In the late seventies, Montalvo was exiled to France twice and remained there from 1879 as punishment for his work, "Las catilinarias" (1880). This seminal work brought him recognition throughout intellectual circles in the United States, Europe, and the rest of Latin America.
Polemicist Writings
Although Montalvo made significant contributions with his select theater works, poetry, and a novel, it was his exceptional skill as an essayist that firmly established his legacy and fame. Most notably, he is known for his critical and provocative stance against the autocratic leaders, often referred to as "caudillos," of his time. His eloquent and incisive writings, including notable works such as "Las Catilinarias" and "Siete Tratados," were often critical of the political status quo and made him a target of these authoritarian leaders.
"Las Catilinarias" (1880) is a compilation of essays that Montalvo wrote while in exile, railing against the dictatorial rule of Gabriel Garcia Moreno, Ecuador's President at the time. Moreno was known for his conservative politics, strong central authority, and his cooperation with the Catholic Church, all of which Montalvo saw as threats to the democratic principles he held dear.
In "Siete Tratados" (1882), Montalvo's criticism continued, this time targeting Ignacio de Veintemilla, another authoritarian ruler. His essays are filled with invectives against despotism, corruption, and the abuse of power. He also advocated for liberal principles such as freedom of expression, and championed the cause of education and intellectual enlightenment.
Montalvo's vocal criticisms naturally did not sit well with the authoritarian caudillos, who saw his influential writings as threats to their rule. His essays were not only beautifully written but also posed powerful ideological challenges to the authorities, stirring the populace and encouraging them to question and resist authoritarian rule. As a result, Montalvo faced several instances of political persecution and exile throughout his life. Despite these challenges, he never wavered in his convictions, and his work has left a lasting impact on Ecuadorian and Latin American literature and political thought.
Literary Contributions
As an author, Montalvo was known not only for his full-length books but also for his accomplished essays. His work, "Siete Tratados" (1882), and "Geometría Moral" (published posthumously in 1902), enjoyed widespread popularity in Ecuador, although they were banned by Veintemilla. Montalvo's only novel, "Capítulos que se le olvidaron a Cervantes" ("Chapters Cervantes Forgot"), published posthumously in 1895, was a witty sequel to Miguel de Cervantes's "Don Quixote."
Apart from these, Montalvo also founded several literary and political magazines like La Razón (1848), El Veterano (1849), La Moral evangélica (1854), El Espectador (1855), El Cosmopolita (1865), and El Regenerador (1872). These publications showcased his exceptional talent as a writer and his undeterred stance against political corruption and tyranny.
Family Life
In his personal life, Montalvo married María Guzmán Suárez in Ambato on October 17, 1868, and fathered two children with her. Later in 1882, he met Augustine Contoux, with whom he had one child.
Death and Legacy
Juan Montalvo, who died of tuberculosis in Paris on January 17, 1889, left an indelible mark on the world of literature and politics. His mummified body now rests in a mausoleum in Ambato, his birthplace. In honor of his immense contribution, Montalvo's likeness appears on the Ecuadorian five-centavo coin, (circulated in Ecuador from 2000-2005).
The Casa y Mausoleo de Juan Montalvo, located in his hometown of Ambato, serves as a significant testament to his influential life. Ranked third on TripAdvisor's list of things to do in Ambato as of 2023, this museum houses Montalvo's former residence, a mausoleum where he was interred following the repatriation of his remains from France in 1932. The museum is a treasure trove of Montalvo's personal belongings, letters, and books, offering visitors a profound insight into the life of this literary giant.
In addition, his impact is commemorated through several stamps issued both within Ecuador and internationally. Among others, Montalvo appeared on Ecuadorian stamps in 1899, 1949, and 1984—the latter commemorating his 150th birth anniversary. Internationally, he was featured on a Cuban stamp issued in 1989 as part of the 'Latin American History 4th series,' signifying his influence beyond the borders of his native country. His legacy was also encapsulated in the five-centavo coin circulated in Ecuador from 2000-2005, bearing his face. Additionally, prior to Ecuador adopting the U.S. dollar as its official currency, Juan Montalvo's likeness was on the 5000 sucres bill. Numerous monuments bearing his likeness are found not only throughout Ecuador but also in cities like Bogota, Quebec, Madrid, and Paris.
Montalvo's life and works bear testimony to his unwavering commitment to liberal democratic values, his unflinching opposition to authoritarian regimes, and his rich literary prowess. His vivid and powerful essays left a lasting impression on the socio-political landscape of 19th-century Ecuador, making him one of the most celebrated writers in Spanish American prose of that era.
Images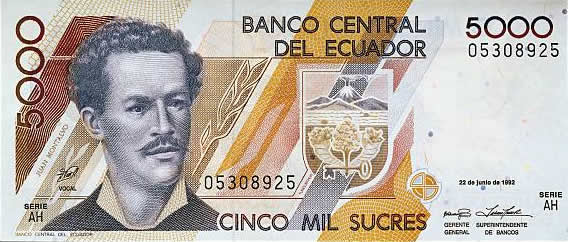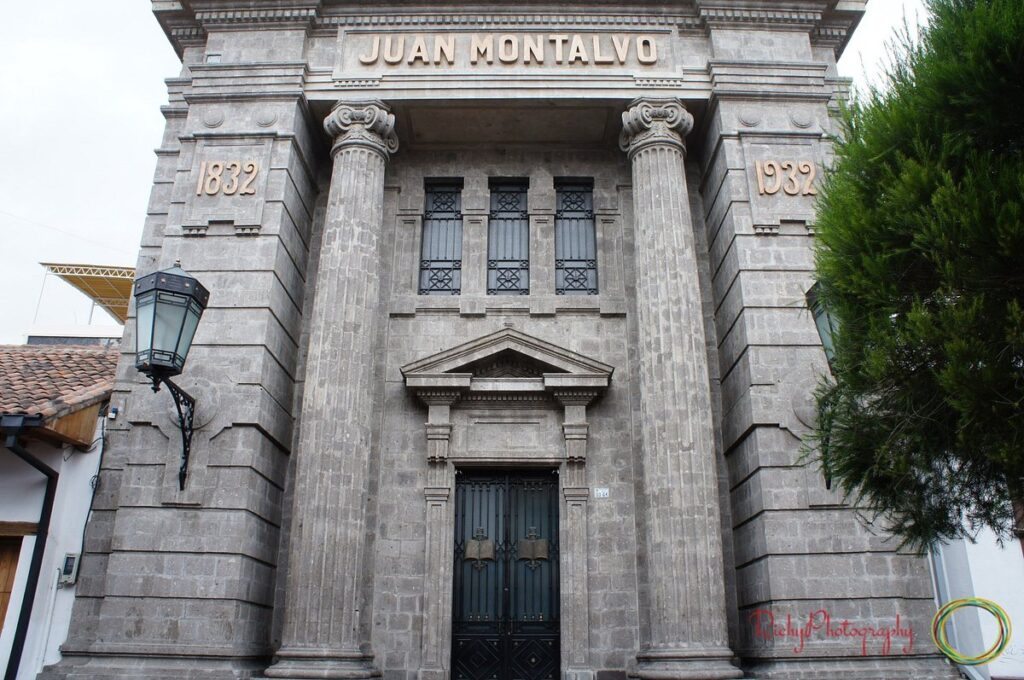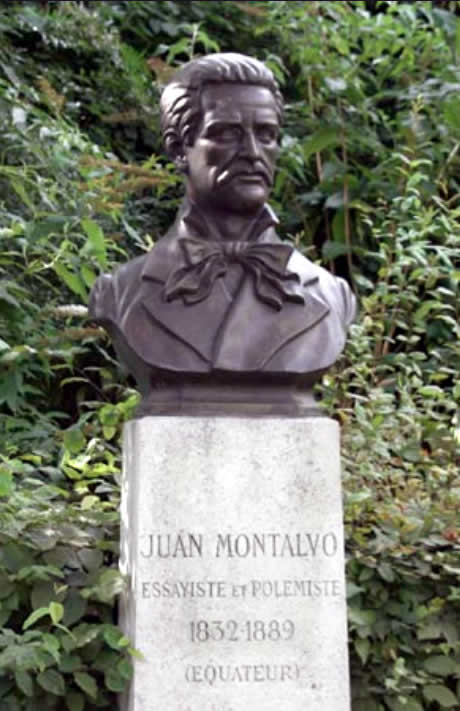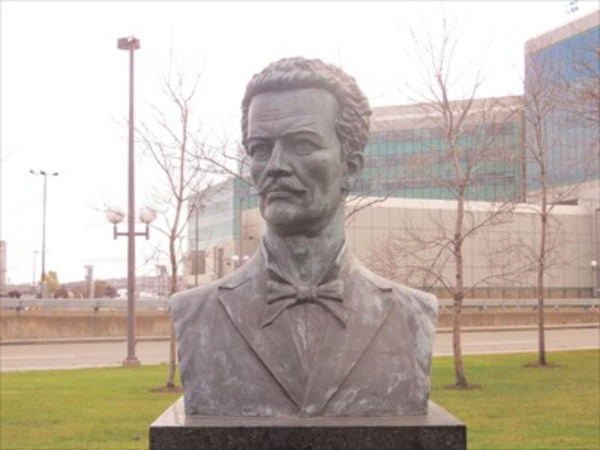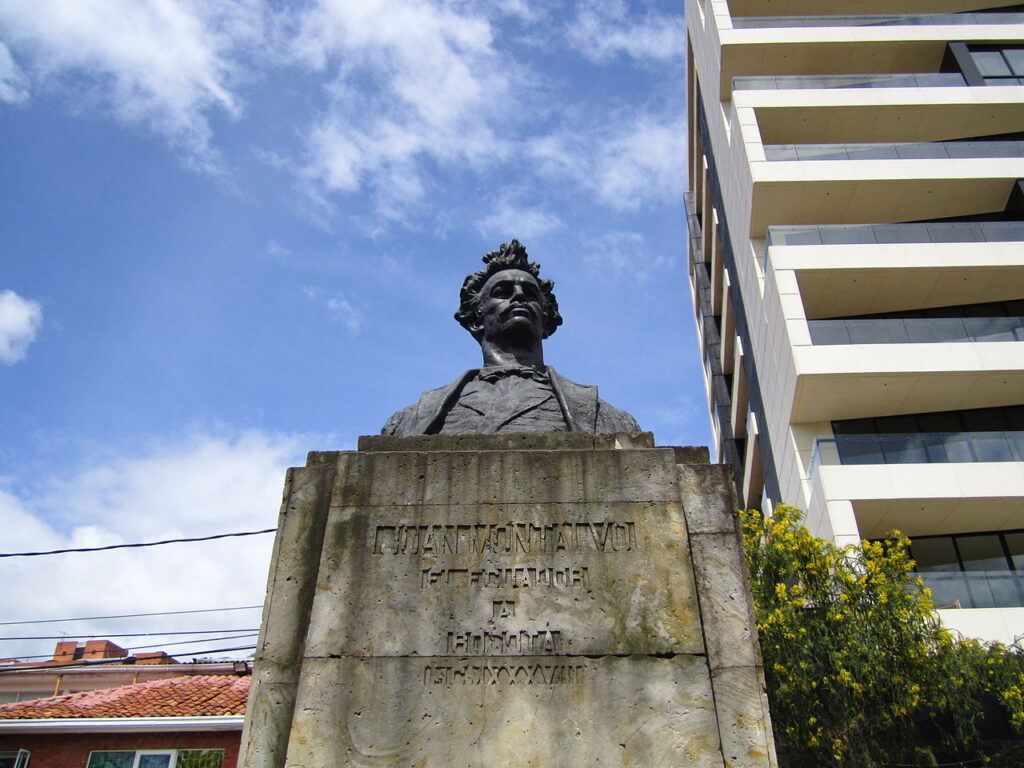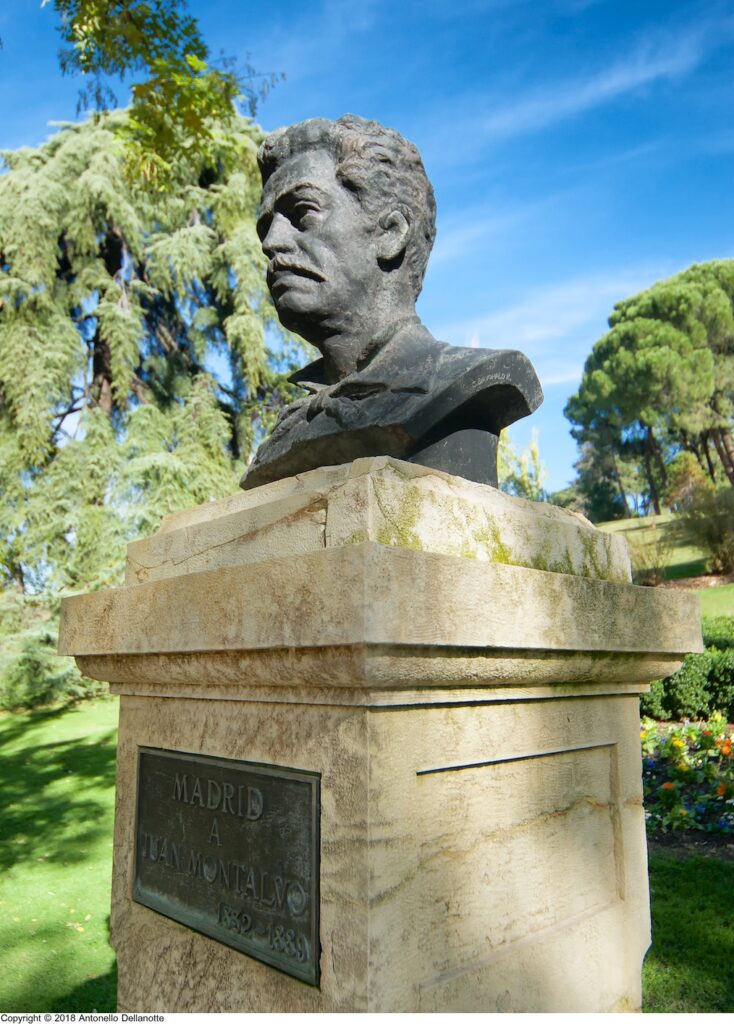 Works
Novel
Capítulos que se le olvidaron a Cervantes (1868) – This is Montalvo's only novel, which can be translated as "Chapters Cervantes Forgot". It serves as a witty sequel to Miguel de Cervantes's classic novel, Don Quixote.
Essays
Las catilinarias (1880) – This series of essays was a critique of the political regime in Ecuador at the time, which earned Montalvo recognition in intellectual circles across the United States, Europe, and the rest of Latin America.
Siete Tratados (1882) – This series of essays can be translated as "Seven Treatises" were popular in Ecuador and were banned by the caudillo Ignacio de Veintemilla.
Geometría Moral (published posthumously in 1902) – This collection of moral essays was published after Montalvo's death.
Judas (1872)
Dramas
Libro de las pasiones (published posthumously in 1935) – This book contains a collection of dramas including "La Leprosa", "Jara", "Granja", "El Descomulgado", and "El Dictador".
Magazines Founded
La Razón (1848)
El Veterano (1849)
La Moral evangélica (1854)
El Espectador (1855)
El Cosmopolita (1865)
El Regenerador (1872)