Gustavo Lemos Ramírez (Vinchoa, Guaranda, February 17, 1877 – Guayaquil, 1936) was an Ecuadorian philologist, grammarian, researcher, academic, and teacher. Virtually self-taught, Gustavo Lemos is considered one of the greatest specialists on Ecuadorian Spanish from the first half of the 20th century. He published books on Ecuadorian semantics and phonetics. In 1928, he was inducted into the Ecuadorian Academy of Language. A public school in Guayaquil bears his name.
Gustavo Lemos Ramírez was a member of
Association of Americanists of Paris
Historical Research Center
Ecuadorian Academy of Language (since 1928)
Background
Gustavo Lemos Ramírez's parents were Luis Salvador Lemos Chávez and Rosa Ramírez Tovar, farmers from the town of Vinchoa, Guaranda canton.
He began his education under the tutelage of his mother, he then went to the Christian Brothers' school that Professor González led in Guaranda, and at the age of 10, he moved to Quito to continue his elementary education. He finished his secondary education in the Colegio de los Padres Salesianos and the Colegio San Gabriel de los Jesutas. At the age of 17, he lost both of his parents.
In 1901 he began a teaching career as a children's teacher, being called to teach classes at the San Luis Gonzaga Historic School that was next to a Cathedral.
On February 21, 1905, he created the journal "Pedagoga y Letras" with Professors Fermín Vera Rojas and Alfredo Sáenz R., which was published successfully until 1910 under the management of Sáenz and Rojas. He began teaching Spanish at the Vicente Rocafuerte School in 1907. Throughout his illustrious life, he also taught several private lessons, leaving an indelible imprint in the minds of those who were fortunate enough to be his students.
In 1910 he married his cousin, Zoila Adela Ramírez, and they had a son with the same name as his.
In 1920, he became Deputy for the Province of Bolívar and attended Congress. That year he published "Semantics or Essay of Ecuadorian Lexicography, with an appendix on national names composed of Quichua roots."
In 1928 he attended the National Constituent Assembly as a deputy for Bolívar, his friend Dr. Víctor Manuel Rendón, requested his admission to the Ecuadorian Academy of Language. He was presented with the signature of Nicolás Clemente Ponce and Remigio Crespo Toral and on March 5 he occupied the chair left by Nicolás Espinosa.
After 22 years of teaching, he resigned in 1929. His final years were peaceful since, due to an old pulmonary TB, he ceased going out and died in Guayaquil on March 14, 1936, at the age of 59.
Works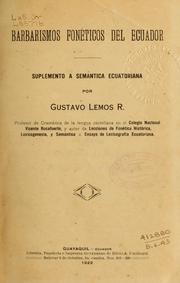 Barbarismos fonéticos del Ecuador; suplemento a Semántica Ecuatoriana, Librería, Papelería e Imprenta Gutenberg de E. A. Uzcátegui, Guayaquil, 1922.
Semántica, o Ensayo de lexicografía ecuatoriana. Con un apéndice sobre nombres nacionales compuestos de raíces quichuas, Imprenta-Papelería Sucre de Jorge F. Molestina, Guayaquil, 1920.
Semántica, o Ensayo de lexicografía ecuatoriana. (Suplemento), Impr. del Colegio Nacional Vicente Rocafuerte, Guayaquil, 1922.
Semántica, o Ensayo de lexicografía ecuatoriana. (Suplemento nº II), Impr. del C. N. Vicente Rocafuerte, Guayaquil, 1924.
Name variations
Gustavo Adolfo Lemos Ramírez
Gustavo Lemos Ramírez
Gustavo Lemos R.