José María Egas (Manta, November 28, 1897 – 1982) was an Ecuadorian poet, lawyer, journalist and university professor. Many of his poems have been turned into the lyrics of "pasillos," a genre of music very popular in Ecuador. Egas studied law at the University of Guayaquil, graduating in 1927. He was then active as a lawyer and journalist, but became best known for his poetry, being appointed national poet laureate in 1976. His poem "Plegaria Lírica" ​​has appeared in several American and European Anthologies and is reproduced every year in "The Hundred Best Poems in the Spanish Language," which is published in Madrid, Spain. Egas worked as a professor at the University of Guayaquil. He was the brother of the poet Miguel Augusto Egas, best known by his pen name Hugo Mayo.
José María Egas reads "Canto A Guayaquil" and other poems.
Picture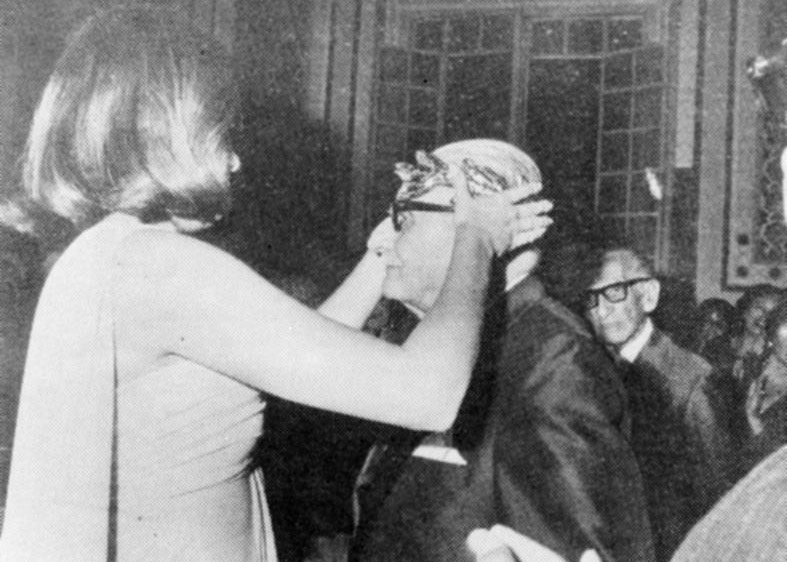 Poems
El amor
Deja que venga solo, deja que venga piano,
alegre, doloroso, como quiera venir.
Que arome de silencios tu corazón cristalino
y pueble de luceros tu noche de zafir.
Pero nunca te empeñes en forzar el arcano!
Amor es un tesoro que se cae de la mano…
Es arpa de los cielos que la tendrás que oír.
Deja que venga solo… Que llegará en un día
de sorpresa inefable para tu corazón.
Cuando traigas del valle de tu melancolía
humedad en los ojos y en los labios canción.
Pero nunca te empeñes con inútil porfía!
Amor vendrá de suyo, como un Ave María
a tu madrugadora campiña de ilusión!
SONETOS DE LA TARDE
I
Despacio… y como atentos a la voz del destino
diluida en el grave son de los campanarios,
íbamos silenciosos por el viejo camino
donde se alzan escuetos árboles milenarios.
Lejos lloraba el ángelus desde la triste ermita.
Se desmayó la hora trémula en el ocaso.
Y tuvieron la angustia de esa tarde infinita
las hojas que caían muertas a nuestro paso.
Ella y yo por la senda triste… La fuente clara
rimaba sonatinas como si fuesen para
nuestro amor, para ella, que tenía en su frente
una vaga dulzura crepuscular dormida …
Yo le dije un secreto triste como la vida
y ella cerró los ojos melancólicamente …
II
Ingenuamente pones en tu balcón florido
la nota más romántica de esta tarde de lluvia.
Voy a hilar mi nostalgia de sol que se ha dormido
en la seda fragante de tu melena rubia.
Hay un libro de versos en tus manos de luna.
En el libro, un poema que se deshoja en rosas…
Tiendes la vista al cielo… y en tus ojos hay una
devoción infinita para mirar las cosas.
Tiembla en tus labios rojos la emoción de un poema.
Yo, cual viejo neurótico, seguiré con mi tema
en esta tarde enferma de cansancio y de lluvia.
Y siempre, cuando mueran crepúsculos de olvido,
hilaré mi nostalgia de sol que se ha dormido
en la seda fragante de tu melena rubia.
BAJO EL OTOÑO
El parque estaba húmedo, gris y convaleciente.
La tarde se hizo toda languidez femenina.
Y entre rosas de otoño, bajo la niebla fina,
iba por el sendero que enjoyaba el poniente …
Iba por un sendero de rosas… Lentamente
cubríala un ropaje de seda vespertina…
Y su elegancia regia de emperatriz latina
triunfó sobre mis mármoles de orfebre decadente!
Desde entonces prosigo mi viaje solitario
con los ojos abiertos sobre el devocionario
y el alma -con su niebla crepuscular- dormida.
Ella, como un recuerdo, sonámbula, se aleja…
Y una dulzura triste como de pena vieja
naufraga en los otoños celestes de mi vida…
LA ULTIMA TARDE
La vida siempre igual! … Con su color de tedio,
con sus tardes lluviosas que estremecen de frío
y son como la angustia de este mal sino remedio
que nos va consumiendo de locura y hastío!
Dejar que el alma llore con su misma dolencia
y se pierda en canciones vagas y misteriosas …
Seguir viéndolo todo con esa indiferencia
del que sabe el amargo secreto de las cosas!
Ya no nos queda nada! . . . Ni aquellos ojos negros
que eran como el encanto de una noche dormida. . .
Ni aquella risa loca que iba fingiendo allegros
en ese pentagrama lírico de la Vida!
Y sentir un perfume como a novias lejanas…
Y el corazón llorando con un dolor eterno,
con ese dolor místico que tienen las campanas
que lloran al crepúsculo de una tarde de invierno.
La lluvia sigue hilando su canción de abandono.
Ha llegado la tarde final en que mi vida
cantará sus tristezas, y con su mismo tono,
así, como una flauta, se quedará dormida …
plegaria lírica
Tu siglo se muere de una mal imprevisto
Tu siglo está loco. Señor Jesucristo
ya no hay alma, verso ni luz ni oración.
Y por eso elevo mi plegaria santa
que desconsolada llegará a tu planta
desde el incensario de mi corazón.
Bien sé que el arquero dispara su flecha
que Ariel se ha dormido, Caliban acecha
los cisnes se mueren, se angosta el rosal…
Pero tu lo puedes, Rabí Nazareno
(lo puedes por grande, por dulce por bueno)
Ruega por el santo país del ideal.
Ruega por la estirpe de Apolo celeste
por la lira santa y el carrizo agreste
Ruega por el verso, que es eternidad
por los que trajeron un don de armonía
y bordan con oro de tú fantasía
Los harapos tristes de la realidad
Ruega por el alma, Señor a quien diste
la gracia inefable de sentirse triste
ante una mirada, un beso, una flor…
y por los vedados de toda fortuna
que en el imposible telar de la luna
hilvanan su santa quimera de amor.
Works
Poesía: Unción (1923)
Unción y otros poemas (1941)
El milagro (1941)
Unción, El milagro, y otros poemas (1954)
Canto a Guayaquil (1960)
Poesías completas (Guayaquil, 1974)