Luis F. Veloz (Quito, 1885-1959) was an Ecuadorian poet and sculptor. Along with his friends Aurelio Falconí and Julio E. Rueda, he founded Altos Relieves, one of the first magazines to publish young poets influenced by modernismo in Ecuador. His poems were published in Altos Relieves and the magazine Revista de la Sociedad Jurídico-Literaria. He wrote about art and translated some of the poems of the Italian poet Gabriele D'Annunzio into Spanish. He stopped writing verses to focus on sculpting. In 1918, the Ecuadorian government sponsored him to go the school of Fine Arts in Rome, where he lived for many years. He's best remembered for his controversial marble statue La Bacante y el Fauno, which was commissioned by the Illustrious Municipal Council of Quito (Ecuador) and created in Rome. Today this statue can be found in the Malecon 2000 in Guayaquil. A collection of his poems and some plays have yet to be published.
Poem
ULTIMAS PALABRAS

Apriétame la mano, querida, que yo muero!
ruega al morir Alieri, poeta del dolor,
y la de Abani, presa de honda melancolía,
besa, bañando en lágrimas, la frente al trovado.
Ahora dormimos...., canta Byron, el poeta Job,
Y en Missolonghi, el bardo proscrito de sus lagos,
manda que en urna de oro -(cual preciado tesoro),
guarden su corazón.
Un beso! pide Nelson moribundo en la cruenta,
terrible, aterradora, sangrienta Trafalgar.
Un beso! ¡Qué dulzura la de ese viejo lobo!:
pedir un beso al rudo compás del batallar.
Luz, más luz!, grita Goethe, Si, luz, y a desfilar
Werther, Carlotà, Fausto en el ceremonial
en la mano la antorcha, la 1uz, y luego ciega
la intonsa, la irredenta, la loca humanidad.
Tasso tięne creencias; Tasso cree en un Dios:
eleva la cabeza cargada de coronas
y balbuce muriente: En tus, manos Señor .

Soy Jefe del Ejército!
Chilla esa Aguila corsa que llaman Napoleón.
Y en su agonia mide lo intenso de lo negro,
lo inmenso de lo triste,
de esa hoja de la Historia escrita en Waterloo.
Walter Scott es sublime: habla en él la razón,
él no tiene querida; él no conoce amor,
pero siente en el alma, siente en el corazón
que algo le pasa y clama: Regenerado estoy!
Mozart invoca a Emilia, y Emilia da consuelo
al artista que pide le cante himnos de amor.
Ah! MoZart es muy tierno....Ah! Mozart muere [triste:
Repite, dice a Emilia, Repítelo por Dios.

Qué grito! que plegaria, qué himno, qué oración
clamar en la agonía como Walter Scoti!
Sculpture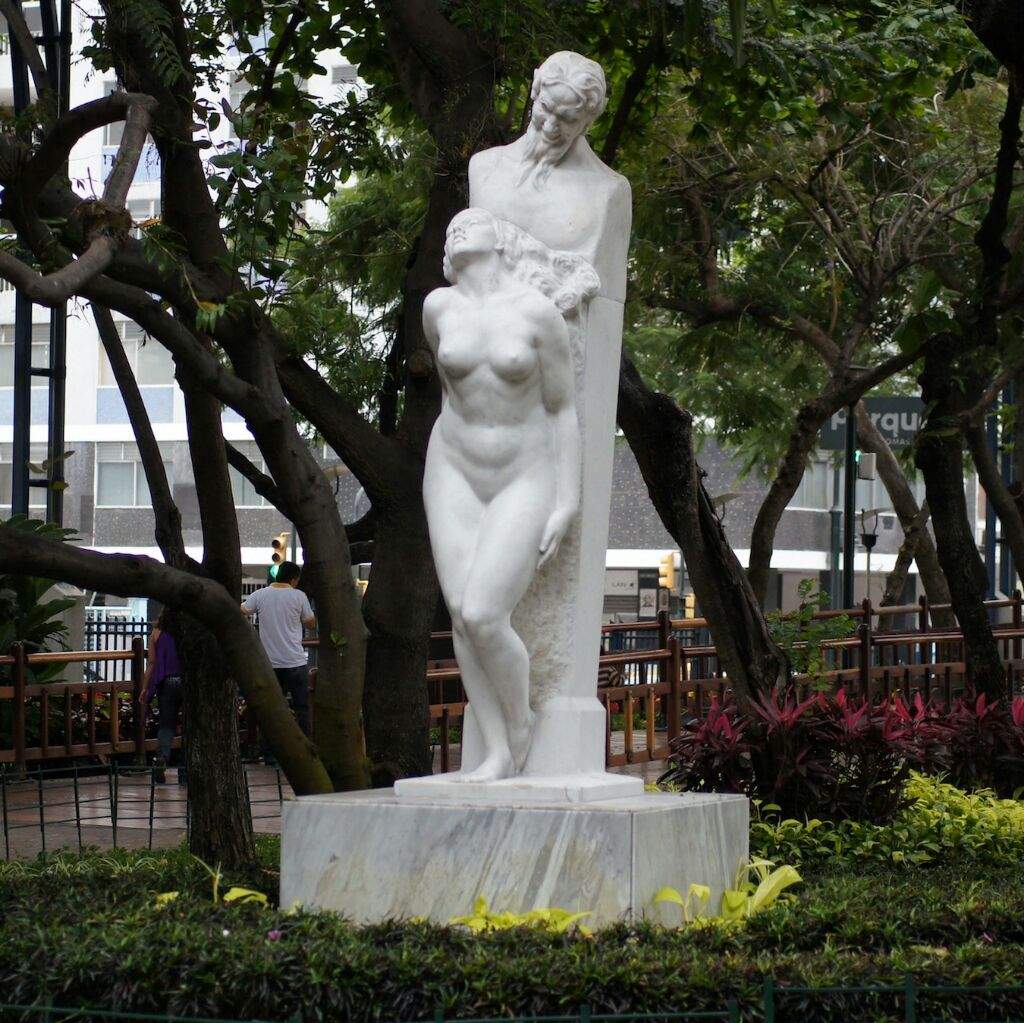 Works
DECADENTISMO – a study on art. (Read it for free here).
Los hermes: Selecciones de modernos poetas y prosistas ecuatorianos (1923) compilation of poems by various modernist poets from Ecuador. (Read it for free here).