César Borja Lavayen (Quito, February 6, 1851 – Guayaquil, January 31, 1910) was a writer, poet, translator, physician, politician and professor. He was educated at the National University of San Marcos in Lima, Peru. He served as the Deputy of the National Congress of Ecuador, and mayor of Guayaquil (1903-1904). He was a member of the Ecuadorian Academy of Language (since 1901) and in the latter part of his life was the rector of the Central University of Ecuador (since 1908). For political reasons, he lived various years in exile in Costa Rica. On his return to Ecuador, Borja was appointed to various important posts by President Eloy Alfaro.
Introduction
César Borja Lavayen was a multifaceted individual who greatly influenced Ecuador's intellectual, political, and medical landscape during the late 19th and early 20th century. Born into aristocracy on February 6, 1851, in Quito, his lineage traced back to both Spanish nobility and notable figures of the Church. He was a renowned physician, researcher, writer, poet, politician, and even served as the mayor of Guayaquil and the Minister of Foreign Affairs.
Early Life and Education
Lavayen spent his childhood in Esmeraldas and later moved to Guayaquil at the age of nine. He was fluent in English and French, in addition to his native Spanish, by the time he finished high school. Lavayen obtained his medical degree from the University of San Marcos in Lima, Peru, demonstrating an early interest in the medical field.
Medical Career and Contributions to Medical Science
Returning to Guayaquil in 1877, Lavayen joined the faculty of medicine at the local university. His commitment to medical education led him to establish the Guayas Medical Academy, an indication of his dedication to advancing medical knowledge.
In 1893, Lavayen founded "Gaceta Médica," a newspaper dedicated to disseminating medical and forensic research, signifying his commitment to medical science and its public accessibility.
As a physician, Lavayen also made significant contributions to medical research, including studies on yellow fever in Ecuador. His works, such as "La fiebre amarilla: apuntes sobre la epidemia de 1880" and "Geografía médica de la fiebre amarilla en el Ecuador," contributed to the understanding and management of the disease.
Political Involvement and Exiles
César Borja Lavayen was a significant figure in the political landscape of Ecuador in the late 19th and early 20th centuries. His political journey began in 1885 when he was elected to serve as a deputy for the province of Guayas during the political period known as the "Progresismo."
Lavayen was recognized for his exceptional oratory skills and quickly gained a reputation as a hard critic of President José María Plácido Caamaño's regime. He sided with his brother, Francisco José Borja Lavayen, who was an armed revolutionary fighting against Plácido Caamaño's government alongside fellow liberal insurgents.
However, his staunch criticism of the government did not go unpunished. Lavayen was arrested and exiled to San José, Costa Rica, at the end of the National Congress sessions in 1888. Despite his displacement, Lavayen remained politically active, a testament to his resilience and commitment to his beliefs.
During his exile in Costa Rica, he continued to voice his opposition towards the Ecuadorian regime through his poetry. In 1899, while still in exile, he published the politically charged poems "Raza de Víboras" and "Patria," which criticized Eloy Alfaro's regime.
Lavayen's political engagement continued upon his return to Ecuador in 1895, where he joined a committee welcoming troops led by generals Plutarco Bowen, José María Sáenz, and Delfín Treviño, known as the "Montoneros." However, following the Battle of Gatazo, Lavayen was accused of conspiracy alongside these generals and once again exiled to San José, Costa Rica.
Despite these tumultuous experiences, Lavayen remained an important figure in Ecuadorian politics upon his return from his second exile. His refusal to accept the position of Minister of Foreign Affairs offered by the government of General Leónidas Plaza in 1901 further demonstrated his steadfast political principles. Lavayen served as mayor of Guayaquil, Ecuador's most populous city, from 1903 to 1904. Later on, in 1908, he accepted the position of Minister of Foreign Affairs during Eloy Alfaro's administration.
Public Service and Positions Held
Throughout his life, César Borja Lavayen held numerous public offices in Ecuador under different administrations, highlighting his versatility and dedication to public service.
Director of Studies of Guayas (1907): Lavayen was appointed by Eloy Alfaro, who took office for the second time in 1907. Despite their political disagreements, Alfaro recognized Lavayen's value and sought his cooperation, marking the beginning of a new friendship.
Rector of Universidad Central del Ecuador (1908): Lavayen moved to Quito to assume this role and served until November 1908.
Minister of Public Education (1908): Shortly after his tenure as rector, Lavayen was appointed as the Minister of Public Education.
Minister of Foreign Affairs (1908): In the same year, he also assumed the role of Minister of Foreign Affairs.
Founder of the Chambers of Industries (1908): In a display of his dedication to the nation's economic growth, Lavayen established the Chambers of Industries in the cities of Guayaquil, Quito, and Cuenca.
Minister of Finance (1909): In 1909, Lavayen was appointed to lead the Ministry of Finance.
Literary Contributions
César Borja Lavayen, in addition to his impressive political and medical career, made significant contributions to Ecuadorian literature. His work spanned across both poetry and prose. His expertise in the medical field often influenced his writing, giving him a unique and insightful perspective. His contributions were a blend of original works and translations, demonstrating both his creative prowess and his respect for the works of others.
His literary repertoire included politically motivated poetry. In 1899, while still in exile in Costa Rica, he published the poems "Raza de Víboras" and "Patria." These works sharply criticized the regime of Eloy Alfaro, showing his courage in speaking out against the government, despite the personal risks involved. Upon his return from exile, he published the poem "Fin de Siglo," another significant contribution to his literary portfolio.
Borja Lavayen's literary work culminated in 1909 with the publication of "Flores Tardías y Joyas Ajenas," a compilation of his best works till 1909. This volume includes 44 original compositions and 59 translations of notable French poets from the latter half of the 19th century. The book showcased his profound appreciation for literature and the seamless integration of his intellectual pursuits with his creative ones. His works remain an integral part of Ecuador's literary heritage, reflecting both his personal journey and the socio-political landscape of his time.
Personal Life and Legacy
Lavayen married his second cousin, Ángela Febres-Cordero Lavayen, and they had five children. His contributions to Ecuador's intellectual, political, and medical landscape had a lasting impact. Lavayen's passing on January 31, 1910, due to severe amebiasis marked the end of an era, but his influence remains as a testament to his multifaceted life.
Pictures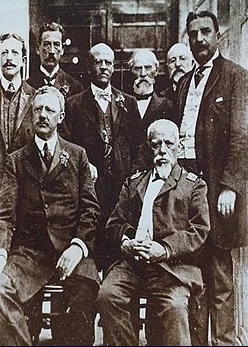 Selected works
Raza de Víboras (1899)
Patria (1899)
Fin de Siglo
Flores tardias y joyas ajenas (1909) – a collection of poems previously published in newspapers and magazines, 44 new poems, and 59 poems by other poets translated by Borja from the French.
La Pólvora (1914) a play co-written with Rafael Pino Roca.
Estrellita, cuento que parece historia (1917) a serial novel published in the El Guante Literario. Borja translated Estrellita into German in 1923.
-Mama- un caso clínico de afasia (1921).
La fiebre amarilla: apuntes sobre la epidemia de 1880
Geografia medica de la fiebre amarilla en Ecuador