Miguel Valverde Letamendi (Guayaquil, December 6, 1852 – Rome, April 19, 1920) was an Ecuadorian politician, diplomat, writer, poet, journalist and translator. He is considered a precursor of modernismo in Ecuador. In 1890 he was the Director of the Municipal Library of Guayaquil. In 1915 he published "Libro de versos," containing a translation of Victor Hugo's "Religions et religion," a political tract supporting belief in God but attacking organized religion, which caused a scandal among followers of the church. Due to his political views he was often arrested and many times exiled. He also served the country in various governmental posts during the presidencies of his allies. In 1883, General Eloy Alfaro appointed him Minister of the Interior, War and Foreign Relations of the Governments of Manabí and Esmeraldas. In 1901, General Leonidas Plaza appointed him Minister of the Interior and Police.
Family
Father: José María Valverde Cassaus
Mother: Hortensia Letamendi y Navarro
Wife 1 (and also his first cousin): Carmen Grimaldo Alvarez, they did not have children. She died young.
Wife 2: Isabel Chiriboga Navarro, they had a son named Galo.
Grandfather: Felipe Letamendi, a hero
Governmental posts
Minister of Court of Auditors
Minister of the Interior and Police
Ministry of Foreign Relations (1902)
Ecuador's Consul General in New York
Ecuador's Consul General in Ottowa (1898)
Ecuador's Consul in Rome (1920)
Pictures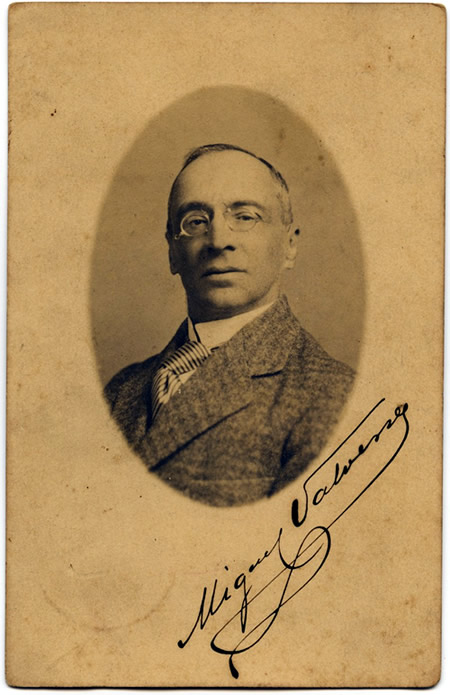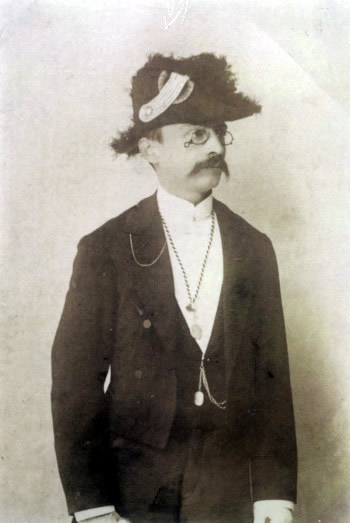 Poems
A UNA PULGA.
Pude cogerte al fin, pulga maldita;
Vas a morir; mi inmensidad te aplasta,
Y un leve esfuerzo de mis dedos basta
Para vengar tu ofensa que me irrita.
Soy tu dueño y señor; mi alma infinita
Con tu ruindad y pequeñez contrasta,
Y es más por eso que tu infame casta
Mi indignación y mi furor excita.
Muere pues, pulga vil, ya que no alcanza
Mi poder hasta hundirte en un infierno,
Donde, al calor de tu suplicio eterno,
Se eternice el placer de mi venganza.
¿Protestas tú también? ¡Cuánta osadía!
¿No existe un Dios a semejanza mía?
EN MI CALABOZO.
(A mi esposa.)
A veces, me parece, cielo mío,
Que no te veré más; crece mi pena;
Contemplo con tristeza mi cadena;
Desmaya el corazón, y siento frío.
En vano entonces por volar ansío
En pos de la ilusión que me enajena,
¡Ay! que el presente la inquietud refrena
Con que te busca, amor, mi desvarío.
Y es inútil luchar, y ya no lucho;
Pero de pronto el labio balbuciente
Tu bello nombre a proferir alcanza;
Tu rostro miro, tu palabra escucho,
Y al pecho vuelve, grata y complaciente
Mensajera del cielo, la esperanza.
HOLGORIO.
(Al niño Alfredo Luis Valenzuela y Barríga.)
Cándido lirio;
Fresco pimpollo;
Estro fecundo
Y esplendoroso
De mis ardientes
Ritmos eonios;
Mágico hechizo
De dos esposos
Que, embelesados
Y en alborozo,
Cuando la tarde
Templa el bochorno
Tras de los diarios
Pleitos y enojos,
En su regazo,
Llenos de gozo,
Cubren de besos
Tu lindo rostro;
Nene robusto,
Sano y hermoso,
Que abres al mundo
Grandes los ojos;
Yema florida;
Lene retoño;
Rosa encarnada;
Fruto sabroso;
Nudo de afectos;
Fuente de holgorios;
Suave motivo
De gayos tonos;
Naife luciente
Del broche de oro
Que une dos perlas
En matrimonio;
Luz matutina;
Nimbo glorioso;
Causa inocente
De amores locos
Que solicitan
Tus labios rojos:
¿Por qué al mirarte,
Niño gracioso,
Siento encendidos
Los viejos hornos;
Arde en la hoguera
Mi cuerpo todo;
Llorar quisiera,
Y el reconcomio
Saca del pecho
De lo más hondo
Tiernos suspiros,
Raros antojos?
¿por qué a tu vista,
Mamón precioso,
Se abren los brazos,
Se inclina el tronco,
Y ante tu cuna
Las piernas doblo,
Para adorarte
Puesto de hinojos?
Es, Luis Alfredo,
Que al verte, evoco
Dulce el recuerdo
Nítido de otro
Ser adorado
Que allá, en remotos
Confines, crece
Jacarandoso,
Mientras yo triste
Me quedo solo,
Es que mi Galo,
Mi niño blondo,
Gárrulo y bello,
Maciso y gordo,
Cuando contaba
Seis meses cortos,
Se reproduce
Vivo, en el foco
De mi añoranza
De viejo chocho,
Desque contemplo
Salir del gorro
De encajes blancos
Y rizos fofos
Tu cabecita
De luminosos
Leves perfiles,
Cuyos contornos
Inaccesibles
De ánjel radioso
Desesperaran
Al mismo Giotto.
Es que a tu lado
Me vuelvo bobo,
Y tu argentino
Gritar jocoso
Fuera de quicio
Me saca pronto;
Y es eso mismo,
Querido rorro,
Lo que produce
Tánto alboroto,
Ya que las Nueve
Tocan el bombo,
Para que salten
Sin envoltorios,
Dentro del nido
Blando y mimoso,
Brazos y muslos
Que, en su retozo,
Mueven alegres
Risas y lloros.
Mas a este punto
Llegado, noto
Que te ha arrullado
Mi canto soso.
Duérmete, niño;
Viertan los gnomos
Sobre tu frente
Sueños dichosos,
Al mismo tiempo
Que, abriendo el toldo,
Te da en un beso
Sus faustos votos
Este vetusto
Vate mohoso,
Que su romance
De versos momios
Aquí termina
Sudando el hopo.
Works
Ante la Muerte (1891)
Miss Edith Cavell (1914)
Sócrates y Jesucristo (1915)
Libro de versos (1915), read it for free here.
Las anécdotas de mi vida T.I. (1919), read it for free here.
Tribunal de cuentas : Voto salvado en el juicio de la cuenta general de 1890, rendida por el H. Sr. Ministro de Hacienda (1892), read it for free here.