Adelaida Velasco Galdós (Guayaquil, 1894 – December 26, 1967) was an Ecuadorian writer, feminist, and humanist. She is recognized her dedication to Catholic Christian feminism. In 1932, Velasco co-founded the Legion of Popular Education alongside writer Rosa Borja de Icaza. This organization aimed to promote education and empower women in Ecuador. Additionally, in 1936, she represented Ecuador in the Inter-American Commission of the "Women's International League for Peace and Freedom" in Washington D.C. Starting in 1939, Velasco initiated a campaign to nominate Gabriela Mistral, a renowned Chilean poet, for the Nobel Prize in Literature. Her efforts proved successful when Mistral became the first Latin American author to receive the prestigious award in 1945. Mistral later acknowledged in various interviews that it was Adelaida Velasco who had originally proposed her nomination for the Nobel Prize.
Adelaida Velasco's campaign to get Gabriela Mistral nominated for the Nobel Prize started in 1939 and paid off with Mistral winning the prize in 1945.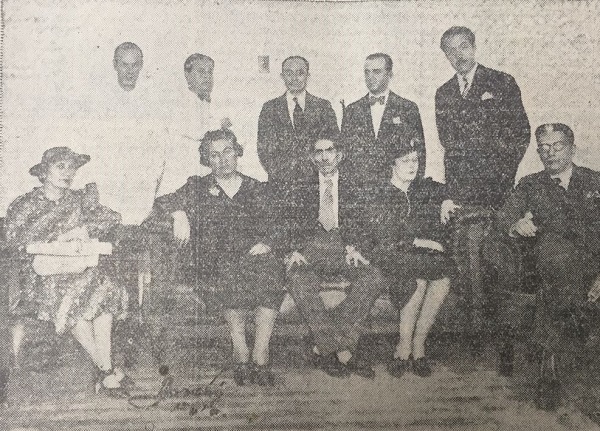 Velasco's career was influenced by her admiration for the Chilean poet Gabriela Mistral who she officially invited to Guayaquil, Ecuador in 1938, holding various meetings, a small parade, and recitals at the Olmedo Theater in her honor. The following year, 1939, Velasco promoted Mistral's nomination for the Nobel Prize in Literature, writing an extensive article on her, letters to literary figures throughout Latin America, as well as to the president of Chile who based on Velasco's letter to him made getting Mistral nominated a national goal. Mistral became the first Latin American author to win the Nobel Prize in 1945 and acknowledged in several interviews that Velasco's effort was key in making her nomination possible.
Velasco was mainly unknown until 1945 when Gabriela Mistral in an interview said: "The idea came from a friend of mine, Adelaida Velasco, from Guayaquil, who wrote to President Aguirre Cerda, my former teacher, who presented my nomination in Stockholm." Velasco was then sought by numerous journalists throughout the world for interviews.
Awards and acknowledgements
In 1942, Velasco was appointed member of the Central Committee of the Provincial Red Cross of Guayas Province and commissioner of international affairs.
On March 31, 1960, the Chilean consul Pedro Zúñiga Arancibia presented Velasco with the first class Bernardo O'Higgins Medal, rewarding her for her work in helping Gabriela Mistral obtain the Nobel Prize in Literature.
Parents
Adelaida Velasco Galdós was born in Guayaquil in 1894. Her father was Dositeo Velasco Pérez, a farmer from Ambato who owned the San Lorenzo Hacienda across from Puná Island, Ecuador. Her mother was Lorenza Galdós, an owner of urban properties in Guayaquil. Her sisters were Amada and María Esther. Her sister María Esther married the poet Aurelio Falconí in 1915.
Pseudonym
Since 1917 Velasco began using the pseudonym Zaira, particularly in the publications "Flora" and "El Guante," until the closure of the latter one in 1926. In said year, she began writing for "El Telégrafo" with her real name.
Literary friends in Ecuador
Among her many literary friends were Teresa Alavedra, Marta Piedad Castillo de Leví, Zaida Letty Castillo, Rosa Borja de Ycaza.
Death
Adelaida Velasco Galdós died of bone cancer on December 26, 1967. She is buried in the General Cemetery of Guayaquil.