Olga Caro Alda (April 25, 1949) is a French author, Hispanist, researcher, university professor, and lecturer. She holds a PhD in the Spanish language and has been teaching Latin American literature and culture at the Université du Maine in Le Mans, France. She specializes in the works of Ecuadorian novelist Jorge Icaza. In 1994, her interest in Icaza took her to Ecuador, where she extensively researched the author by exploring libraries and connecting with Icaza's widow, Marina Moncayo. Marina graciously welcomed her into her home and provided access to Icaza's personal archives, which Caro meticulously studied, photocopied, and photographed. During her research, Caro discovered two of Icaza's long-lost stories, "Patrón Rafico" (published as "Capítulo para una novela inédita" in 1945) and "Fantasía reincidente" (1960). Impressed by her findings, Caro shared the news with Marina, who exclaimed, "It's incredible, Jorge was looking for them to publish them and he couldn't find them!" With the approval of Icaza's daughters, Fenia and Cristina, Caro published a book in 2005 titled "Nouvelles de Jorge Icaza et études critiques" [Short stories by Jorge Icaza and critical studies]. The book featured the two rediscovered stories and included eight essays that Caro had previously written about Icaza.
Associations Olga Caro belongs to
International Association of Hispanists (AIH)
Society of Hispanists in Higher Education
Olga Caro's book on Jorge Icaza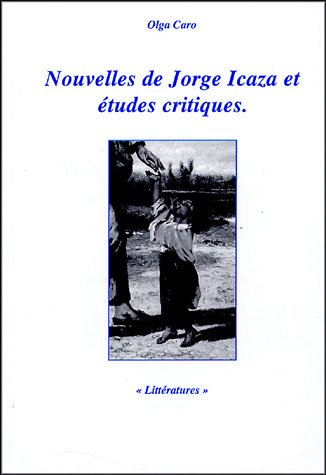 Olga Caro's book "Nouvelles de Jorge Icaza et études critiques" contains two short stories by Jorge Icaza that were originally published in Letras del Ecuador but forgotten. She considers the first, "Patron Rafico" (1945) as the "draft" for "El Chulla Romero y Flores"; and believes that the second "Fantasia Reincidente" (1960) is a precursor to "Atrapados." The book is completed with eight essays on Jorge Icaza that Caro has authored over the years. The variety of their themes allows for a better understanding of Icaza's career and work.
Selected works
Nouvelles de Jorge Icaza et études critiques (2005)
L'espagnol Claridad : Civilisation, Grammaire, Vocabulaire
Conceptos varguianos y sexualidad (1990)
Las traducciones de las obras de Jorge Icaza al francés (1996, Kipus magazine) – an essay about the French translations of Jorge Icaza's works. Read it for free here.