Ricardo Descalzi del Castillo (Riobamba, September 22, 1912 – Riobamba, November 29, 1990) was an Ecuadorian novelist, historian, playwright, short story writer, translator, literary critic, university professor and medical doctor. Together with José Alfredo Llerena and Arturo Meneses, his schoolmates from the Mejía National Institute, he founded the magazine Surcos in 1928. After graduating from high school in 1932, he published a 100-page novel entitled, "Ghismondo," with stories about his life as a student. He also wrote another novel entitled "Saloya" (1962), a short story book entitled "Los murmullos de Dios" (1959), and the theatrical dramas "Los Caminos Blancos" (1939), "En el horizonte se alzó la niebla," (1961), and "El huasipungo de Andrés Chiliquinga" (1981). Perhaps his most important work is his six-volume "Historia crítica del teatro ecuatoriano" (1968). Among his translations is a book entitled Poemas (1969), a French-to-Spanish translation of Jean Poilvet Le Guenn's poems. In 1968 the municipality of Quito awarded him the Tobar Prize. He was a member of the House of Ecuadorian Culture and the National Academy of History, as well as vice president of the Bolivarian Society of Quito.
Parentage
He was the son of Mario Descalzi Vignolo and María Isabel del Castillo Valencia. His father died of pneumonia in 1914.
In 1941 he married Olga Salgado Noboa with whom he had 6 children.
Education
At the age of six he was sent to Guayaquil to study elementary school at the accredited and traditional Santistevan School. In 1926 he traveled to Quito to continue high school at the Mejía National Institute (Instituto Nacional Mejía), where he graduated in 1932, to later begin his medical studies.
Career
Medical doctor (1941 – mid 1960s)
Director of the School of Fine Arts of Quito
Head of Public Relations of the Central Bank of Ecuador
Director of the National Library
Awards
1950: His play Clamor de Sombras won the House of Ecuadorian Culture's First Prize in Theater in 1950.
1963: his novel Saloya won the First Prize at the Central University.
1968: The Municipality of Quito awarded him the Tobar Prize.
Death
He died on November 29, 1990 in Riobamba, Ecuador after being seriously ill from coronary disease.
Pictures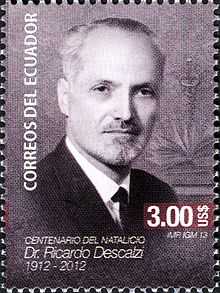 Partial list of works
| | | | |
| --- | --- | --- | --- |
| Title | Genre | Year | Notes |
| Ghismondo | novel | 1932 | |
| Los Caminos Blancos | play | 1939 | |
| Anfiteatro: drama en tres actos y en prosa | play | 1950 | |
| Portovelo: Episodios de un campamento minero | history | 1951 | |
| Los murmullos de Dios | short stories | 1959 | |
| En el horizonte se alzó la niebla. Clamor de sombras | play | 1961 | Clamor de sombras was the winner of the House of Ecuadorian Culture's First Prize in theater in 1950. |
| Saloya: novela de la montaña y el camino | novel | 1962 | Saloya was the winner of the Central University First Prize in 1963. |
| Historia crítica del teatro ecuatoriano | literary criticism/history | 1968 | |
| La Real Audiencia de Quito claustro en los Andes | history | 1978 | |
| El huasipungo de Andrés Chiliquinga: drama basado en la novela Huasipungo de Jorge Icaza | play | 1981 | |
| Cinco errores históricos de Quito | history | 1986 | |
| Síntesis histórico de la ciudad de San Pedro y San Pablo de Riobamba : estudio de sus fundaciones, nombres y ambiente colonial | history | 1987 | |
| Historia de las misiones amazonicas de la Real Audiencia de Quito | history | 1990 | |
| Historias de la Real Audiencia de Quito, Agua, higiene y medicina de la Quito colonial | history | 1990 | |
| Historias de la Real Audiencia de Quito Alzamientos y revoluciones en la colonia | history | 1990 | |
| Historias de la Real Audiencia de Quito Historia colonial de la Plaza Mayor (1990; history) | history | 1990 | |
| Historia de la Real Audiencia de Quito | history | 2010 | |