Victoria Tobar Fierro (Ambato, 1943) is an Ecuadorian poet, writer, and literary critic. In 1983 her first poetry book, "Y de repente" was bestowed the "Juan León Mera" award by the municipality of Ambato. She has written 5 poetry books and her poems have been selected for inclusion in various anthologies of Ecuadorian and Latin American poetry. In 2020 a compilation of her poems was published in a book entitled "Inmensos sentidos" by the publisher El ángel editor.
Introduction
Victoria Tobar Fierro, born in Ambato in 1943, is a renowned Ecuadorian poet who has made significant contributions to contemporary female poetry in Ecuador. She has published several poetry collections throughout her career, including "Y de repente" (1983), "De victorias y derrotas" (1991), "Palabra cómplice" (1995), "La victoria, la rosa y viceversa – Antología" (1997), "Desde las referencias" (2001), and "Poesía despeinada" (2006). In 2014, she also published a memoir titled "Latoya."
Recognition and Accomplishments
Victoria Tobar Fierro's literary talent has garnered significant recognition within the literary community. Her debut poetry collection was honored with the prestigious "Juan León Mera" award by the Municipality of Ambato in 1983, cementing her status as a promising poet. Her poems have been included in various anthologies that celebrate Ecuadorian and Hispanic-American poetry, including notable works such as "Poetas de la Mitad del Mundo: Antología de poesía escrita por mujeres ecuatorianas" by Sara Vanégas Coveña and Ana Cecilia Blum. These anthologies showcase Tobar Fierro's invaluable contributions as a prominent female poet from Ecuador, solidifying her place among the literary voices of her country.
Santiago Grijalva, a poet who wrote the epilogue for Tobar Fierro's book "Inmensos sentidos" published by El Ángel Editor in 2020, described her as a poet who doesn't rely on complicated verse structures or convoluted references. She conveys her emotions with simplicity and freedom, confidently navigating the universe of words. Her poetry challenges and contrasts with societal norms and established structures, representing a discreet opposition to the status quo. Tobar Fierro's poems reveal her rebellion against conformity while emphasizing the significance of acknowledging others and finding irreverence within her poetic voice.
Cultural Activism and Literary Criticism
In addition to her contributions as a poet, Victoria Tobar Fierro is an active cultural activist, editorialist in media outlets, and literary critic. Her involvement in these roles demonstrates her commitment to promoting and nurturing artistic expression in Ecuador. Through her writings and critical analyses, she provides valuable insights into the literary landscape, inspiring and influencing new generations of writers.
Honors and Distinctions
Apart from the "Juan León Mera" award, Tobar Fierro has received recognition for her contributions to literature. She was selected for several anthologies of Ecuadorian and Hispanic-American poetry, further solidifying her status as an esteemed figure in the literary community. The Municipality of Ambato awarded her the "Provincia de Tungurahua al Mérito Cívico" distinction, highlighting her civic contributions and her impact beyond the realm of literature.
Pictures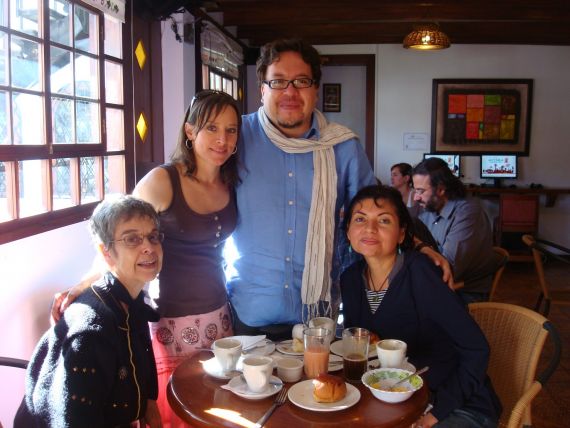 Works
Poetry books
Y de repente (1983)
De victorias y derrotas (1991)
Palabra cómplice (1995)
La victoria, la rosa y viceversa -Antología- (1997)
Desde las referencias (2001)
Poesía despeinada (2006).
Inmensos sentidos (2020)
Memoir