Agustín Vulgarín Marín (Guayaquil, 1938 – 1986) was a poet, fiction writer, actor, and playwright. He penned several notable poetry books, including works such as "El pez que fuma" (1964), "El bosque de las estatuas" (1974), and "Cuadernos de Bantú" (1977). Vulgarín's literary talent also encompassed the realm of drama, with plays like "Atahualpa: drama en dos actos" and "La Mayasquerita: drama en tres actos." Furthermore, he left two unpublished novels, "Alfeo el de las iguanas" and "Los poriparalos."
Introduction
Born in Guayaquil in 1938, Agustín Vulgarín Marín played a vital role in the renewal of Ecuadorian lyrical poetry after the 1960s. His works, published in prominent literary magazines of the time, are characterized by a rawness that some have described as 'antipoetry.' However, others see this as a stripped-down, incisive style, merging elements of the celestial and the earthly. Vulgarín was part of a generation of Ecuadorian intellectuals who greatly enriched the country's cultural landscape.
Beyond his literary pursuits, Vulgarín actively contributed to the promotion of culture and held significant positions in the General Secretariat of Public Information of the Presidency of the Republic. He worked tirelessly to advance literature, theater, and folklore. As an actor and journalist, he also engaged with television and actively promoted traditional customs and practices, ensuring their preservation and recognition.
Vulgarín's Literary Works
Vulgarín's poetic journey can be traced through his published works. His poetry collections, including "El pez que fuma" (1964), "Poemas" (1969), "El bosque de las estatuas" (1974), and "Cuadernos de Bantú" (1977), showcased his unique style and thematic concerns. Jorge Vanegas Muñoz described Vulgarín's poetic voice as at times antipoetic, characterized by its formlessness, arbitrariness, disjointedness, and apophatic nature. His poetry was stark, incisive, and sharp, juxtaposing celestial and earthly elements. It offered an original and sometimes diabolical exploration of meaning.
Vulgarín's literary output extended beyond poetry. In addition to his poetic works, he explored theater and prose writing. His play "En los aceros y las aceitunas" was published in 1965, followed by his collection of plays simply titled "Teatro" in 1968. He also published "Prólogo a prólogo" (1980) and "Dogma y ritual de Cubilota y su progenie" (1981). With two novels that remain unpublished, namely "Alfeo el de las iguanas" and "Los poriparalos," Vulgarín demonstrated his versatility and commitment to different forms of artistic expression.
Conclusion
Agustín Vulgarín Marín's contributions to Ecuadorian literature and cultural development are immeasurable. His poetry and plays embodied a distinct artistic voice that challenged conventional norms and explored the complexities of human existence. Through his works, Vulgarín delved into the origins of humanity, critiqued contemporary society, and sought to illuminate the essence of being. Although his life was tragically cut short in 1986, his literary legacy continues to inspire and engage readers, ensuring that his name endures in the annals of Ecuadorian literature.
Poems
Mamá maravillosa

Mi madre, espejo mágico donde los rostros se miran bellos
Mi madre, pisapapeles del original de Poesía
Mi madre, melón cubierto de nieve
Mi madre, mariposa aprisionada entre las bisagras de una puerta
Mi madre, túnica vistosa de los terrenos primitivos
Mi madre, estrella de mar exhibida en caja de vidrio
Mi madre, cómodo par de zapatos viejos
Mi madre, poniendo cirios al filo de los lacrimales
Mi madre, pluma de ganso
Mi madre, metrón para medir las palpitaciones terrestres
Mi madre, heroico fusil de revoluciones
Mi madre en el número 9999999999 de las constelaciones vitales.
Mi madre dueña de la lámpara de Aladino y la espada de Merlín
siempre lista a defender los sueños de su hijo.
 

As de corazones

No quiero creer, no quiero
un corazón dejando de parir vida
lejos de esta guitarra de latidos, ni
corazón sin novelas de ay negrita yo te adoro… Así
mi corazón guardamonedas de caridad
no ve demasiado oscura la vida.
Mi corazón de pañolones de fibra alegre,
chorros, al mismo tiempo, de tedio
desde la frente hasta la nuca.
Sin espada ni capa, mi corazón pelea como caballero medieval
y baila el valse de los afligidos. Sigue,
mi corazón trepando escaleras de millones de peldaños
que no conducen a ninguna parte.
Con ojo de vidrio
mi corazón contempla el paisaje de la nostalgia.
Siente frío
como un niño desnudo y se avergüenza de ello
corazón en calzoncillos.
Mi corazón bajo otro corazón desconocido.
Mi corazón, animal perezoso para agacharse y recogerse a sí mismo
en cualquier tejar del mundo.
Mi corazón de avisos luminosos mil novecientos y pico.
Mi corazón marcial listo para el combate de la desesperación
general o doméstica.
Mi corazón de arsénico. Con rasguños
y barrios bajos
y guantes de boxeo.
Sin camisa, mi corazón absorbe tintos,
mi corazón con hueso habla
descompuesto;
yo le mimo, le pongo flores, lo beso;
corazón boquiabierto, no quiero,
no lo quiero con electricidad negativa, lo embarco
con pasaje de primera
vestido de luz fiesta, mi corazón lo quiera o no,
llegará a seguro puerto.
Selected Works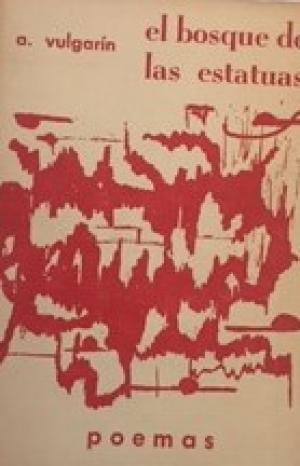 Poetry
El pez que fuma (Guayaquil, 1964)
Poemas (Guayaquil, 1969)
El bosque de las estatuas (Guayaquil, 1974)
Cuadernos de Bantú (1977)
Dogma y ritual de cubilota y su progenie (1980)
Prólogo a prólogo (1980)
Novels
Alfeo el de las iguanas (Unpublished)
Los poriparalos (Unpublished)
Theater
Doña Babel en una isla y otras piezas
Atahualpa: drama en dos actos; La Mayasquerita: drama en tres actos
Teatro (1968)
Other
En los aceros y las aceitunas (1965)
His poems were included in the following anthologies
Espirales Poéticas: Joven Poesía Ecuatoriana (1960)
Lírica ecuatoriana contemporánea (Bogotá, 1979)
La palabra perdurable (Quito, 1991).
Tapestry Of The Sun, an Anthology of Ecuadorian Poetry
Antología de la poesía ecuatoriana. De César Dávila Andrade a nuestros días. Segunda Entrega (2011) by Xavier Oquendo Troncoso.
"Tapestry of the Sun, an anthology of Ecuadorian poetry" (2009) a bilingual anthology of Ecuadorian poets by Alexis Levitin and Fernando Itúrburu.
Source
The poems contained above were taken from "Antología de la poesía ecuatoriana. De César Dávila Andrade a nuestros días. Segunda Entrega" (2011) by Xavier Oquendo Troncoso.