Francisco Pérez Febres-Cordero (Guayaquil, July 18, 1934 – Ibidem, August 31, 2010) was an Ecuadorian poet and journalist whose distinguished career at El Universo newspaper lasted four decades (1958-1998). Among his many accomplishments at El Universo was the creation of the Ismael Pérez Pazmiño Poetry Contest in 1959, which is regarded as one of the most prestigious poetry awards in Ecuador. He authored several poetry books, beginning with "Polvo de estrellas" [Star Dust] in 1951. His "Obras completas" [Complete Works] was published posthumously in 2020. From 1992 to 1998 he was Vice-director and Chairman of the Board of El Universo. In 1998, the year he retired from El Universo, he and one of his sons launched a bookstore named El Librero inside the Ríocentro Ceibos Mall, which, in 2008, they sold to the Librimundi group. In 2012, a bust of him was erected on "Avenida del Periodista" (Avenue of the Journalist) in Guayaquil.
Background
Francisco Pérez Febres-Cordero was born on July 18, 1934, in Guayaquil to Francisco Pérez Castro, himself a previous director of El Universo, and Laura Febres-Cordero de Pérez. His paternal grandfather was Ismael Pérez Pazmiño who founded El Universo newspaper in 1921.
He completed his primary studies and part of his secondary studies at the Cristóbal Colón School and the San José La Salle School, both in Guayaquil. He finished his studies at the Milford Academy, in Connecticut, where he served as director of the local newspaper for foreign students. In 1952 he won a first prize for poetry and in 1953 a second prize. He studied journalism at Syracuse University and the University of Miami, graduating in 1958. In Miami, he directed a student newspaper for two years while collaborating closely with Miami's Diario de las Américas, especially on a dedicated Sunday page.
In the educational field, he was a founding shareholder of the La Moderna and Steiner Internacional schools, and the Jardineritos preschool, with his wife Silvia Armijos de Pérez.
From his first marriage he had 3 children, including Laura, Francisco and Jaime Pérez Azúa, with whom, in 1998, he opened the bookstore El Librero, which they sold in 2008. From his second marriage (to Silvia Armijos de Pérez) he had 2 sons, José Fernando and Jorge Luis Pérez Armijos who is also a writer.
Career at El Universo
In 1958, Francisco Pérez Febres-Cordero joined the editorial board of the newspaper El Universo. The Ismael Pérez Pazmiño Poetry Contest, which he founded at El Universo in 1959, is recognized as one of the most prominent poetry prizes in Ecuador. Past winners of the prize include: César Dávila Andrade, Hugo Mayo, Hugo Salazar Tamariz and Euler Granda. He was also the director of the Sports section, where he established the rookie swimming tournament award, the Alberto Spencer Herrera Best Soccer Player Award, and the best athlete awards. From 1959 until 1971, he worked as the editor-in-chief of the newspaper's Sunday supplement and as Assistant to the newspaper's Directorate. From 1992 until 1998, he served as El Universo's vice-director and chairman of the board.
Bust of Francisco Pérez Febres-Cordero in Guayaquil
In 2012, the Municipality of Guayaquil erected a bust that stands on the avenues "Av. del Periodista" and "Av. Carlos Luis Plaza Dañin" in front of the Policentro Mall. The bust was commissioned by the author's family from the painter and sculptor César Augusto Montalvo, and the Municipality collaborated with the pedestal's site and installation.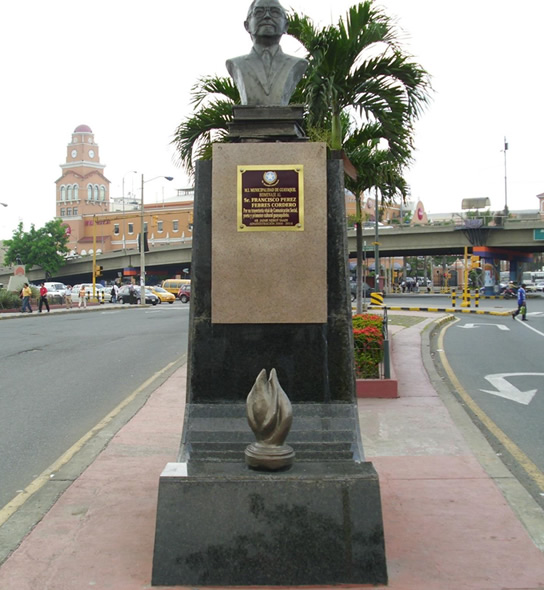 Works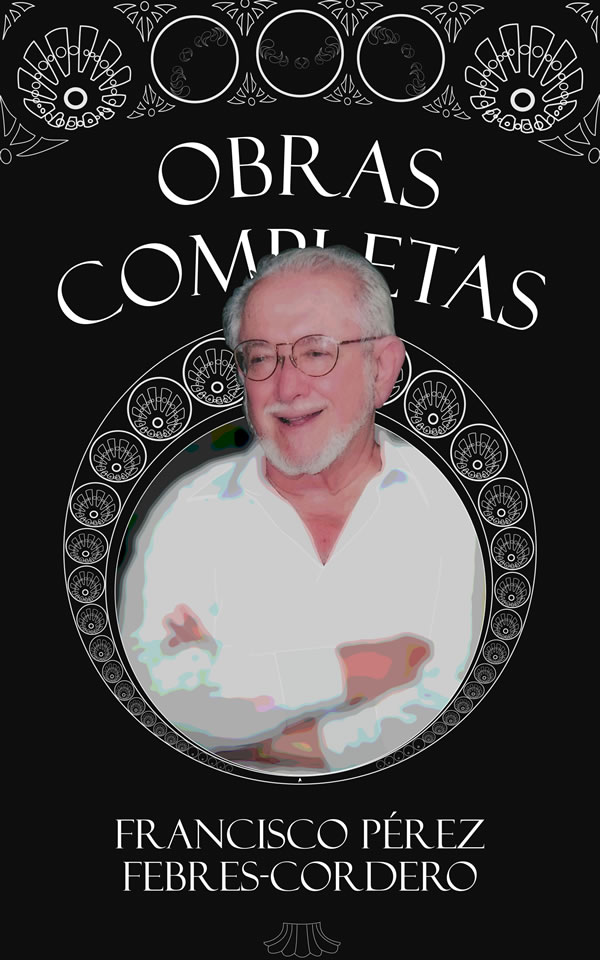 Polvo de estrellas (1955)
Rimas y sarcasmos (1961 [a second, augmented edition of Polvo de estrellas)
Penumbras y otros poemas (1959, 1966)
Reincidencias (1967)
El corresponsal de la tristeza (1969)
Apuntes de un pasajero (1970)
Con el alma en puntillas (1973, 1974)
Poesía (1980)
'…y el poema quedó hecho' (1987)
Tierra mi tierra (1993)
Antología (2008)
Obras completas (2020)
His works have also been published in the following anthologies.
Árbol de fuego, Caracas
Lírica hispánica, Caracas
Antología poética hispanoamericana actual (Buenos Aires: Mario Marcilese, 1968)
Cantos a Guayaquil (Municipalidad de Guayaquil, 1967)
Antología hispanoamericana (Buenos Aires, 1978)
Diccionario de la literatura ecuatoriana (Casa de la Cultura Ecuatoriana, 1980)
El soneto hispanoamericano (Buenos Aires, 1984)
El amor el la poesía hispanoamericana (Buenos Aires, 1985)
Sonetos a Bolívar (Caracas, 1989)
Recognitions and awards
Certificate of Honor and First Prize Medal in the Hermano Miguel Literature Academy's Literary Competition (1952).
Certificate of Recognition from the Tarqui Educational Circle (1964).
Literary Merit Medal from the Guayaquil City Council (1967).
Honorable Mention at the Stories and Tales Contest of the VII University Festival of Letters (1967).
The Ecuadorian Cultural Social House of New York awarded him a Plaque (1967).
Knight of the West River Social, Cultural and Sports Center (1968).
The program Antena Pedagógica named him "Teacher of the Year" with a Medal (1981).
Literary Merit Plaque from the Board of Directors of the Vicente Rocafuerte National School (1981).
Plaque from the United States Embassy for his work on the Board of Directors of the Fulbright Commission (1984).
Certificate of Honor from the Antonio Neumane National Conservatory of Music (1986).
Plaque from the Music and Poetry Intellectual Association (1986).
Plaque from the Culture and Fraternity Association (1987).
Certificate of Honor from the San Judas Tadeo Bilingual Mixed Educational Center and Ofelia Dibo de Raad School (1987).
Journalistic Merit Medal from the Circle of Journalists of Guayas (1987).
Honorable Mention from the Ecuadorian Association for Retarded Children (1987).
Certificate of Honor from the Antonio Neumane National Conservatory (1988).
Civic Orientation Recognition Tribute (1989).
The Abel Romero Castillo Medal from the Association of Educational Journalists, (1990).
Certificate of Honor from the A.I. Música y Poesía, (1991).
Merit Award and Certificate of International Appreciation from the Club de Leones de Guayaquil (1991).
Plaque of Gratitude and Recognition from the Ovidio Decroly Bilingual High School (1991)
The "Encomienda de la Confraternidad Dominicana" Literary Merit Medal from the Central American Institute of Culture (1991).
Plaque of Recognition from the Ecuadorian Association of Orchidology (1992)
Certificate of Honor from the Antonio Neumane National Conservatory (1992).
Medal of Recognition for civic and cultural work from the Gabriel García Moreno Public Night School No.8 (1994).
Medal of Recognition from the Ismael Pérez Pazmiño Higher Technical Institute of Machala (1996)
Plaque for Journalistic Merit from the Manuel Elicio Flor Educational Unit (1996)
Cultural Merit Medal by the Centenario Educational Center (1998).
Recognition from the National Congress for his journalistic work (1997).