Vicente Amador Flor Cedeño (Portoviejo, July 19, 1903 – December 3, 1975) was an Ecuadorian poet known for his poems about his native city Portoviejo. The central park of Portoviejo has borne his name since October 30, 1981, and many educational institutions in Ecuador bear his name. In 1983 a bust statue of Flor was placed in the central park of Portoviejo.
Personal life
Flor had six children with his wife Clorinda Sacoto.
Awards
First Prize of the Primeros Juegos Florales for his poem 'Romanza de ausencia' (1923)
"Lira de Oro" for his poem "Canto a Manta" (1931)
First Prize in the "Poems To Mother" Contest (1948)
"Medalla de Oro" by the city of Portoviejo (1953)
"Condecoración Nacional Al Mérito en el Grado de Comendador" by the government of Ecuador (1962)
Poem
Canto a Portoviejo
¡Salve Ciudad del Valle que dominas
con altivez de reina castellana;
ciudad que ostentas como soberana
la corona triunfal de tus colinas.
¿Adónde fue tu cuna?… Me imagino
que te creaste junto al mar un día;
pero cambió de rumbo tu destino
ante el juglar de la piratería.
Y como reina nunca mancillada
por la mano terrible del corsario,
emprendiste la huida y tu mirada
se hincó en un riente valle solitario.
Valle apacible donde el sol derrama
sus cascadas de oro y de poesía
y donde el corazón suspira y ama
las frondas temblorosas de armonía
Valle apacible de un solar amado,
florecido de amor y de esperanzas.
y homérico en las gestas de un pasado
que sabe del valor y la pujanza
con que supieron tremolar sus lanzas
los indios mantas y los colorados.
Pacheco fue tu fundador… Y un día
a la opresión del español, huraña
te erguiste libre y magna en rebeldía
poco después que Guayaquil había
lanzado el reto al pabellón de España.
Ciudad florida de arrabales lindos,
ciudad de San Gregorio siempre amada,
fuiste como una bendición creada
entre encajes de reales tamarindos.
¡Salve ciudad por tu altivez procera,
y por los que te dieron gran renombre,
por los ilustres don Andrés de Vera
y don Manuel Rivadeneira un prohombre
que, al destacarse cual divina lumbre,
te proclamo libérrima y tu nombre
irradió como el sol sobre la cumbre!
Pictures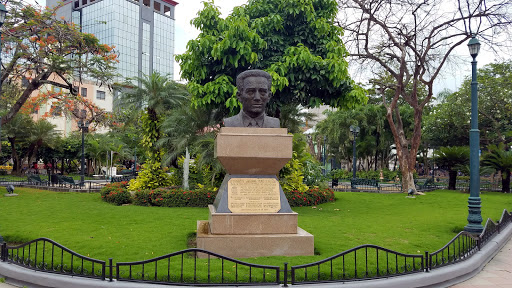 Selected works
"Romanza de la Ausencia"
"Motivos de Ayer y de Hoy"
"Cuatro Voces de la Poesía Manabita"
"Antología Poética"