Edwin Madrid (Quito, 1961) is an Ecuadorian poet, essayist, and editor. The author of 14 poetry books, he is considered one of the most notable poets to have emerged from the literary workshops led by Miguel Donoso Pareja in the 1980s. And as the current director of the writing workshops of the House of Ecuadorian Culture, he has acted as a mentor to many aspiring young poets in Ecuador. He is intensely involved and active in the poetry community, setting up meetings and recitals, as well as a publishing house. His poetry has received awards both inside and outside of Ecuador. Some of his work has been translated into English, Portuguese, German, French, Arabic, and Italian.
Videos
Edwin Madrid speaks about his life
A video with Edwin Madrid
Edwin Madrid reads 3 of his poems
A video celebrating and paying homage to Edwin Madrid's 60 years
Awards & recognitions
Literary Arts Award from the Ministry of Culture of Ecuador, 2013
Casa de América Prize for American Poetry, Spain, 2004.
In 1990 he won the Djenana National Prize for Young Poetry.
His poems were selected by Claude Couffon for the bilingual anthology Poesía Joven Hispanoamericana.
He was writer-in-residence at the Maison des Écrivains Étrangers et des Traducteurs de Saint-Nazaire, France (2011).
Pictures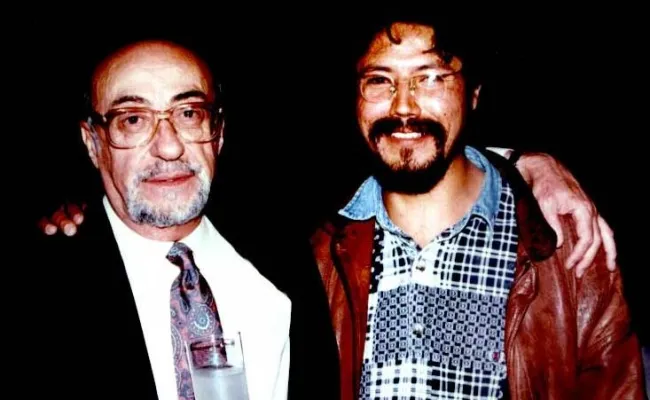 Works
Poetry books
¡O! Muerte de Pequeños Senos de Oro (1987)
Enamorado de un fantasma (1991)
Celebriedad (1992) winner of the National Story and Poetry Contest
Caballos e iguanas (1993)
Tambor Sagrado y otros poemas (1995)
Tentación del otro (Quito, 1995)
Open Doors (U.S.A., 2000)
Puertas abiertas (Líbano, 2002)
Mordiendo el frío (España, 2004)
Lactitud cero° (Colombia, 2005)
La búsqueda incesante (México, 2006)
Mordiendo el frío y otros poemas (Cuba, 2009)
Pavo muerto para el amor (Argentina, 2012)
Al sur del Ecuador (Ministerio de Patrimonio y Cultura del Ecuador, 2014)
Todos los Madrid, el otro Madrid (España, Pre-Textos, 2016).
In 2003, Madrid was the editor of the Spanish/English bilingual edition of the complete poetic works of Jorge Carrera Andrade (with Carlos Reyes as translator), published by the Casa de la Cultura Ecuatoriana [House of Ecuadorian Culture]