Alfredo Pareja Diezcanseco was an Ecuadorian novelist, essayist, journalist, historian and statesman. He was born in Guayaquil on October 12, 1908 and died in Quito on May 1, 1993. He was part of a literary group called the "Group of Guayaquil," whose members utilized realism in their stories. The other members of the group were José de la Cuadra, Joaquin Gallegos Lara, Demetrio Aguilera Malta and Enrique Gil Gilbert. Among the many government posts he held throughout his lifetime, he was elected to the Constituent Assembly in 1944 and was made Minister of Foreign Affairs in 1979. In 1979 he was awarded the Eugenio Espejo Award, the most important literary prize in Ecuador.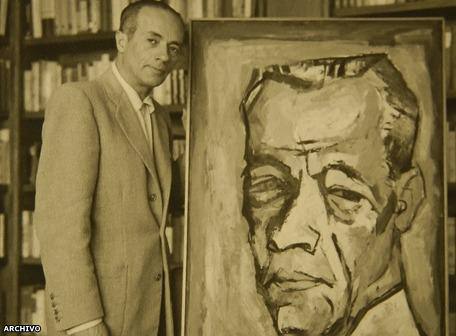 Alfredo Pareja Diezcanseco interview on LA TV ECUADOR, 1990
Personal Life
Alfredo Pareja Diezcanseco married Mercedes Cucalón Concha, his cousin, in 1934. Together they had three children, Jorge, Cecilia, and Francisco. Pareja died on May 1,1993.
Honors, distinctions and positions
Medal of the Eloy Alfaro International Foundation of Havana 1944
Medal for Literary Merit Municipality of Guayaquil, 1972
Eugenio Espejo National Award, the most important literary prize in Ecuador, 1979.
Grand Officer of the Order of Merit of Ecuador
Grand Cross of the Order of Merit of Ecuador
Grand Cross of Isabel la Católica
Grand-Croix de l'Ordre de la Couronne
Grand Cross of the Order of the Sun
Grand Cross of the Order of Rio Branco
Grand Cross of the José Cecilio del Valle Order
Legion d'honneur
Doctor Honoris Causa, University of Guayaquil, 1986
Member, National Academy of History, June 1989
Member, Royal Spanish Academy
Member, Institute of Anthropology and Geography of Ecuador Member, The House of Ecuadorian Culture
Member, Academy of the History of Ecuador
Member of the Center for Literary Studies, University of Guayaquil
History Advisor, Pan American Institute of Geography and History, Ecuador. Professor of History of Culture, Central University of Ecuador
Deputy Director and Professor of History and Political Theory, International Institute of Political Studies, San José, Costa Rica.
Professor of Latin American History and International Relations, Graduate School of the University of Florida, USA.
Political Thought of the Grancolombianas Republics
Guggenheim Fellowship
Professor of Latin America Political Problems and International Relations, Center for Advanced Studies of the Graduate School, University of Miami, USA.
History Research Professor, Central University of Ecuador
Professor of Foreign Literature, Catholic University of Quito, Ecuador
Laronque Tinker Chair, Graduate School, University of Texas, literature and politics in the countries of the Andean Group.
Courses and conferences at the University of Texas, University of New Mexico, Albuquerque and at the University of Puerto Rico.
Works
Novels
La casa de los locos (Guayaquil, 1929)
La señorita Ecuador (Guayaquil, 1930)
Río arriba (1931)
El muelle (Guayaquil, 1933)
La Beldaca (Santiago de Chile, 1935)
Baldomera (Santiago de Chile, 1938)
Hechos y hazañas de don Balón de Baba y su amigo don Inocente Cruz (Buenos Aires, 1939)
Hombres sin tiempo (Buenos Aires, 1941)
Las tres ratas (Buenos Aires, 1944)
La advertencia (Buenos Aires, 1956)
El aire y los recuerdos (Buenos Aires, 1959)
Los poderes omnímodos (Buenos Aires, 1964)
Las pequeñas estaturas (Madrid, 1970)
La manticora (Buenos Aires, 197])
El entenao (Guayaquil, 1991)
Short story
Los gorgojos (Quito, 1954)
Non fiction
Breve historia del Ecuador (1946)
Historia del Ecuador (1954)
La lucha por la democracia en el Ecuador (Quito, 1956)
Thomas Mann y el nuevo humanismo (Quito], 1956)
El Ecuador de Eloy Alfaro (1966)
Historia de la República del Ecuador de 1830 a 1972 (Quito, 1974)
Las Instituciones y la Administración en la Real Audiencia de Quito (Quito, 1975)
Ecuador: de la prehistoria a la conquista española (Quito, 1978)
Ecuador: la República de 1830 a nuestros días (Quito, 1979)
Ensayos de ensayos (Quito, 1981)
Notas de un viaje a China (Quito, 1986)
Biography
La hoguera bárbara, vida de Eloy Alfaro (México, 1944)
Vida y leyenda de Miguel de Santiago (México, 1952).
Alfredo Pareja works are contained in the following anthologies:
El nuevo relato ecuatoriano (Quito, 1951)
Antología básica del cuento ecuatoriano (Quito, 1998)
Ensayos reunidos (Quito, 2009)