Joaquín Gallegos Lara (Guayaquil, April 9, 1909 – Ibidem, November 16, 1947) was an Ecuadorian novelist, short story writer, poet, and literary critic. His works often reflected the social and political issues of his time, including poverty, inequality, and injustice. He was a member of the Communist Party of Ecuador and was imprisoned many times for his political convictions. Lara was born with Pott's Disease, a rare spinal disease which caused paralysis in his legs. Due to his inability to walk, he was unable to attend school and instead devoted himself to self-study at home, in which time he mastered the French, German, Italian, and Russian languages. He was a member of the "Guayaquil Group," and has been described as the group's spiritual leader. The book of short stories "Los Que Se Van" [Those Who Leave] (1930), co-authored with Demetrio Aguilera Malta and Enrique Gil Gilbert, marked the beginning of literary social realism in Ecuador. His most famous novel, "Las cruces sobre el agua" [Crosses on the Water] (1946), is concerned with the November 15, 1922 massacre of striking workers in Guayaquil. Despite his brief life, Joaquín Gallegos Lara's works are still widely read and continue to be studied and recognized for their profound impact on Ecuadorian literature.
Early years and Pott's disease
Joaquín Gallegos Lara was born in Guayaquil on April 9, 1909 to parents Emma Lara Calderon and Joaquín Gallegos Del Campo. His father, a journalist and poet, founded the satirical newspaper "El Caustico" in 1895, which supported Eloy Alfaro. After his father's passing in 1910, Emma published a book called "Mis Recuerdos" in 1912, which included two poems dedicated to Joaquín.
Gallegos Lara's upbringing was shaped by the presence of Pott's Disease, a rare spinal condition that resulted in paralysis in his legs. Unable to attend school due to his physical limitations, he embarked on a path of self-study at home, displaying remarkable determination and resilience. Despite his circumstances, Gallegos Lara's thirst for knowledge led him to master several languages, including French, German, Italian, and Russian. These formative years laid the foundation for his remarkable literary career and unwavering commitment to social justice.
A Militant Communist in Ecuador
Gallegos Lara, despite his physical condition, actively fought as a militant communist and intellectual in Ecuador. He participated in street battles and blockades, relying on a friend who carried him on his shoulders, acting as his legs. He was a member of the Ecuadorian Communist Party and faced imprisonment on multiple occasions due to his unwavering political beliefs.
Literary Journey and Social Critique
Joaquín Gallegos Lara embarked on his literary journey with early poems like "Al Potro," "Vieja Despedida," and "Mamá-Jijí," published in literary magazines. Evolving over time, his poetry embraced social and political themes, evident in works such as "Poemas de Miss Ecuador," "Bandera Roja," and "Film Ferroviario." His keen observations and commitment to social issues found expression in newspapers like La Prensa and El Telégrafo.
Gallegos Lara's notable literary achievement was the publication of his novel "Las Cruces Sobre el Agua" in 1946. Despite his untimely death, posthumous works like "Los Guandos" and "La Bruja" preserved his literary legacy. He was an active participant in leftist politics and a member of the "Guayaquil Group," renowned for their social realist approach. Alongside his writing, Gallegos Lara collaborated with fellow authors Demetrio Aguilera Malta and Enrique Gil Gilbert on the collection of short stories titled "Los Que Se Van" in 1930.
Although Gallegos Lara's life was cut short, his literary impact endured. Works like "La Ultima Erranza" and "Biografía del Pueblo Indio" were published after his passing, ensuring his voice continued to resonate. Notably, his novel "Las cruces sobre el agua," delving into the tragic events of the 1922 Guayaquil massacre, stands as a powerful critique of social and economic inequalities. Gallegos Lara's evocative portrayal of social inequalities and the hardships faced by marginalized individuals resonated deeply, provoking introspection and sparking conversations about societal transformation.
Joaquín Gallegos Lara and Nela Martínez Espinosa's Enduring Friendship and Literary Collaboration
In 1935, at the age of 26, Joaquín Gallegos Lara married Nela Martínez Espinosa, who was 21 years old at the time. Although their marriage ended in divorce, they remained lifelong friends. When Gallegos Lara passed away in 1947, he left behind an unfinished novel titled "Guandos," which Nela Martínez completed and published in 1982. As a result, "Guandos" is attributed to both Lara and Martínez as co-authors.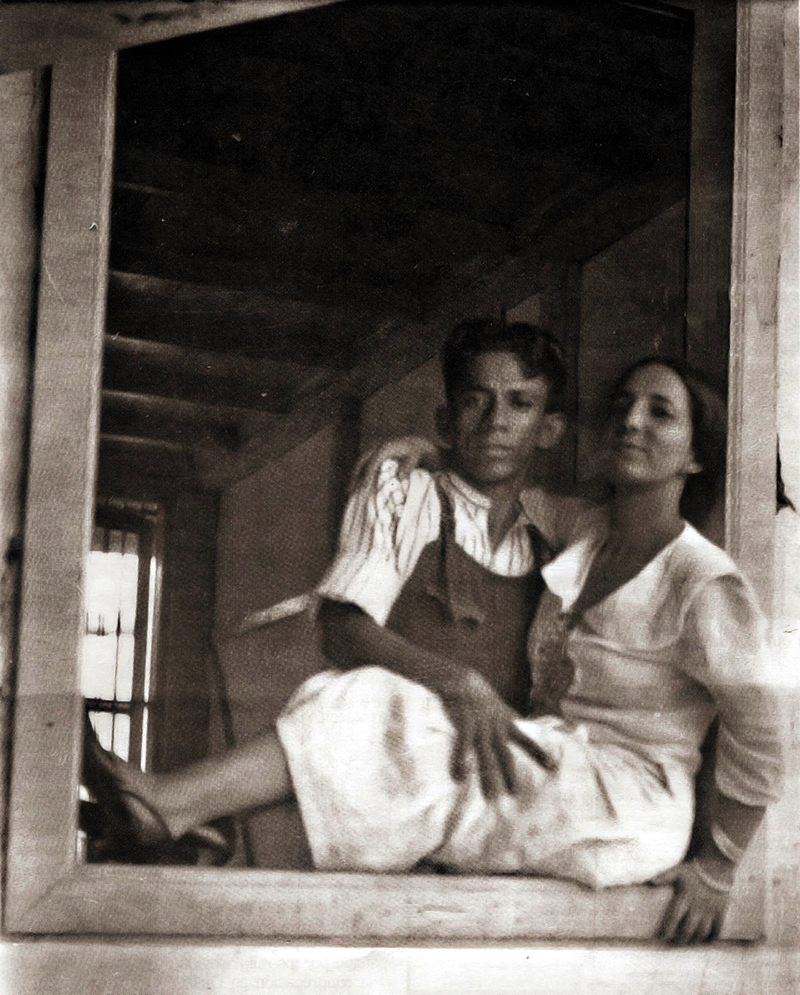 Death
On November 16, 1947, Joaquín Gallegos Lara, a prominent Ecuadorian writer, passed away at his residence in Guayaquil. His death marked a profound loss for the literary and intellectual circles in Ecuador. Gallegos Lara's health declined due to a fistula, and although he sought medical treatment in the United States, he faced the unfortunate denial of a visa. Undeterred, he ventured to Lima, Peru, but was subsequently expelled from the country due to his political affiliations. The obstacles he encountered in his pursuit of medical assistance highlight the challenges he faced both personally and as a committed activist.
Legacy
The enduring legacy of Joaquín Gallegos Lara is exemplified by the establishment of the Joaquín Gallegos Lara National Fiction Prize (Premio Nacional de Narrativa Joaquín Gallegos Lara). Since 1989, this prestigious award has been presented annually by the Municipality of Quito, Ecuador, recognizing outstanding national works in the categories of short stories, novels, and theater. The prize serves as a testament to Gallegos Lara's significant contributions to Ecuadorian literature and his enduring influence on contemporary writers.
Works
Los que se van (1930)
Las cruces sobre el agua (1946), read it for free here.
La última erranza (1947)
Biografía del Dr. Francisco Campos Coello
La Bruja (unfinished novel)
Los Guandos (unfinished novel, completed by his former wife Nela Martínez, published in 1982)
Biografía del pueblo indio (1952)
Cuentos completos (1956)