Fernando Cazón Vera is an Ecuadorian poet, columnist, editor, and university professor. He was born in Quito on June 5, 1935 and has lived in Guayaquil most of his life. He comes from a family of well-known cultural figures in Ecuador, including his uncles Pedro Jorge Vera (1914-1999), who was an acclaimed writer, and Alfredo Vera Vera (1910–1999), who as Minister of Education promoted the establishment of the House of Ecuadorian Culture in 1944, in addition to his cousin Noralma Vera (1936-), an important figure of the Ecuadorian ballet. His first book of poetry, "Las canciones salvadas," was published in 1957 by the House of Ecuadorian Culture after being read and championed by the organization's founder, Benjamn Carrión. He has worked as a columnist or editor for newspapers and magazines such as La Hora, Expreso, Extra, La Nación, and La Razón for more than 50 years. He was twice president of the House of Ecuadorian Culture's Guayas chapter. President Lenin Moreno bestowed Ecuador's highest honor, the Eugenio Espejo Award in Literature, on Cazón in 2018.
Early Life and Education
Fernando Cazón Vera, an Ecuadorian poet and journalist, was born in Quito, Ecuador in 1935. After the death of his father, he moved to Guayaquil with his mother, where he attended Colegio Vicente Rocafuerte and later pursued his studies at the University of Guayaquil. Despite initially studying Agricultural Engineering, Cazón Vera dedicated his life to literature and became a full-fledged poet.
Family Legacy
Within his family, Cazón Vera has influential uncles who have made significant contributions to Ecuadorian culture. Pedro Jorge Vera (1914-1999), his uncle, was an acclaimed writer known for his literary works. Alfredo Vera Vera (1910–1999), another uncle, served as the Minister of Education and played a vital role in establishing the House of Ecuadorian Culture in 1944. The establishment of this institution aimed to promote and preserve Ecuadorian cultural heritage. Additionally, Cazón Vera's cousin, Noralma Vera (1936-), is a renowned figure in the Ecuadorian ballet scene, further emphasizing the family's cultural prominence.
Career as a Journalist and Educator
Cazón Vera embarked on a career in journalism, working for various newspapers and magazines in Ecuador. He notably served as the chief editor for the evening newspaper La Hora and the daily newspaper La Nación. Additionally, he contributed as a columnist for the renowned Guayaquil newspapers Expreso and Extra. Alongside his journalistic endeavors, Cazón Vera spent fifteen years as a university professor, sharing his knowledge and passion with students.
Literary Achievements
Throughout his career, Fernando Cazón Vera published numerous collections of poetry, showcasing his profound talent as a poet. He was associated with the literary group Madrugada, which included esteemed figures such as Efraín Jara Idrovo, Jorge Enrique Adoum, and Hugo Salazar Tamariz. Some of his notable poetry collections include "Las canciones salvadas" (1957), "El enviado" (1958), "La guitarra rota" (1967), "La misa" (1967), "El extraño" (1968), "Poemas comprometidos" (1972), "El libro de las paradojas" (1976), "El hijo pródigo" (1977), "Las canciones salvadas" (anthology, 1980), "La pájara pinta" (1984), "Rompecabezas" (1986), "Este pequeño mundo" (1996), "Cuando el río suena" (1996), "A fuego lento" (1998), "Relevo de prueba" (2005), and "La sombra degollada" (2006), among others.
Recognition and Honors
Fernando Cazón Vera's literary contributions were highly regarded, and he received several prestigious awards for his work. The Municipality of Guayaquil honored him on two occasions with the presea de oro Al Mérito Literario (Gold Medal for Literary Merit). He also received the Lira Poética from the Guayaquil Journalists Association. In recognition of his extensive poetic oeuvre spanning from 1958 to 2000, the Ecuadorian House of Culture published a comprehensive anthology of his work in the Poesía Junta collection. In 2018, President Lenin Moreno awarded Cazón Ecuador's highest honor, the Eugenio Espejo Award in Literature. That same year he won the José Joaquín de Olmedo Award.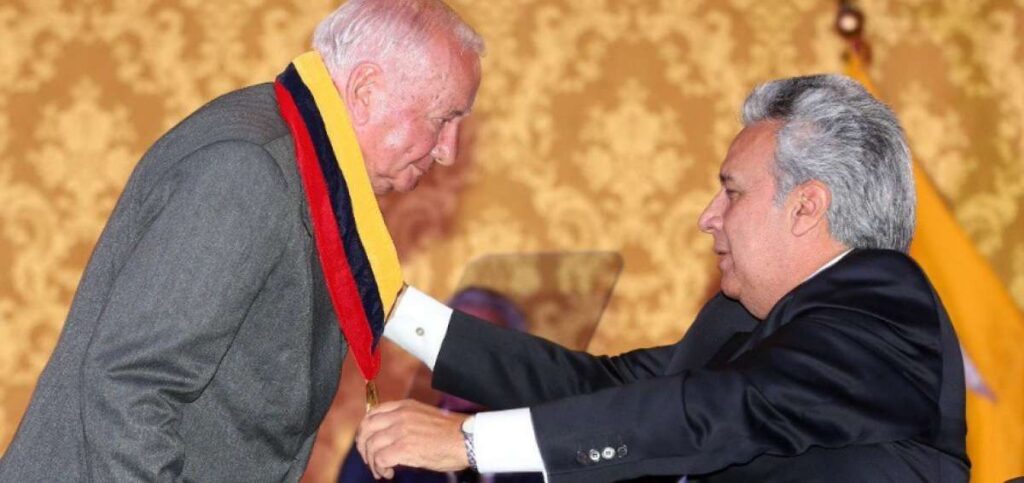 Fernando Cazón Vera Interview
Fernando Cazón Vera speaking about the art of poetry
Poem in English translation
The Ancient Circle
I

How hard it's been to live through all those Mondays.

On the wall where they are crucifying me
I hear the hammer defeating the nail.

And then, what shame to give one's thanks
if even love is now remorse.

And then, what sorrow
to see oneself naked, with pierced hands.

And then to be reborn. And then to give oneself
till all that's always been repeats itself.

II

No one knows that he is water
until he's blamed for a drowning.

No one knows that he is earth
unless he trembles from his deepest depths.

No one knows that he's a tree
until he's blamed for a hanging.

No one knows that he is bread
unless the hungry break him apart.

No one knows that he is water, earth, tree, bread.

No one knows that he is nothing.

III

Burning between two genital poles
in my beginnings my worth, in my beginnings my death.

Between two single digits they put me down.
Glued to my shadow,
for the second time I am wounded.

I stand anonymous between my two names
and they hold me between two steps
while forgetting me between two memories.

I am between two legs and two waters,
upon the earth that makes me throb,
beneath the tolling bell that calls me.

I am burning, I am purified and once
again am turned to doubled ashes,
until in some corner of death
the extremes touch.
Poems in Spanish
FERNANDO CAZÓN VERA
(Quito, 1935)

CANCION Y MENSAJE DE LOS LABRIEGOS

Nosotros los partidarios de la espiga,
los nietos de todo árbol, los hermanos
de la blanca dulzura de la caña.
Los que bajo las nubes esperamos
que venga Dios despedazado en gotas.
Los que oramos al agua, al sol, al viento,
con el rosario lánguido del trigo.
Los que hacemos el único poema
en los rectos renglones del arado.

Nosotros, ciudadanos de lo verde,
de los erectos signos vegetales
y del deshilachado sol que nos abriga
junto a las mil orillas esparcidas
de nuestra inmóvil transparencia,
nuestra lenta proclama colocamos
en los primeros surcos de la tierra.

Nuestra proclama es vertical y asciende
Es la génesis blanca elaborando
el primitivo pan, el generoso
amor que llega con el alfabeto
intacto de la siembra.
Es el sexual sonido de los vientos
Transportando el deseo de la planta.
Es la noche minúscula del árbol,
es el tubérculo y su cadáver íntimo,
es la verdura y su caída fresca,
es la tierra, es la madre poderosa
con su profundo amor de sombra y aire.

Y la proclama sabe a eterno canto
porque somos los hijos del sonido
de la semilla v su ascensión oculta,
porque somos paternos en la hierba
v le damos la mano a cada rama,
porque somos soldados de la diaria
faena elemental que salva al hombre.
Nosotros los partidarios de la espiga,
los defensores de la flor sedienta,
los esclavos del sol, los de la noche
con una hoz que ríe mansamente,
delante de la tierra proclamamos
nuestro firme derecho de ser libres
como el liviano paso de la hoja,
nuestro derecho de regar el llanto
sobre las sepulturas vegetales
y nuestra edad de cultivo y crecimiento
para llenar la soledad del mundo.

MEMORIAS DE UN AHORCADO

Trepas por mi corbata,
oscilas como un péndulo,
mientras tanto, yo existo.
Llegas hasta la cueva de mi boca,
único túnel
por donde las palabras
se aventuran a ciegas.

O por donde las hembras
entierran como a cadáveres
sus lenguas.

Oh la asfixia más útil
y las manos más llenas.

Ascienden

* * *

Si te avisan que he muerto
mira al fondo de tu corazón
para saber si está mi calavera.

Sí me quieres tocar, dame por ido,
pero no ames a quien se me parezca.
Con este cuerpo impar tengo salida.

EL VIEJO CIRCULO

I

Duro ha sido vivir de tantos lunes.
En la pared donde me crucifican
oigo el martillo derrotando el clavo.

Y después, qué vergüenza dar _las gracias
si hasta el amor es un remordimiento

Y después, qué tristeza
verse desnudo con las manos huecas.

Y luego rehacer. Y luego darse
hasta que se repita lo de siempre.

II

Nadie sabe lo que es agua
hasta que no lo culpen de un ahogado.

Nadie sabe qué es tierra
si no lo mueven los profundos sismos.

Nadie sabe qué es árbol
hasta que no lo culpen de un ahorcado.

Nadie sabe qué es pan
si no lo despedazan los hambrientos.

Nadie sabe qué es agua, tierra, árbol, pan.
Nadie sabe qué es nada.

III

Ardiendo entre dos polos genitales
de origen valgo, mas de origen muero.

Entre dos cifras dígitas me ponen.
Apareado a mi sombra,
por la segunda vez estoy herido.

Estoy de anónimo entre mis dos nombres
y me detienen entre dos pisadas
mientras me olvidan entre dos memorias.

Estoy entre dos piernas y dos aguas,
sobre la tierra que me pulsa.
bajo la campanada que me llama.

Ardiendo estoy, me purifico y quedo
dividido otra vez en dos cenizas,
hasta que en algún punto de la muerte
los extremos se toquen.
EL AFORTUNADO
Quién tiene un ojo que no le sirva,
una oreja que le sobre, quién tiene
un mes de más en su almanaque,
una hora inservible en sus relojes,
quién respira dos veces y vive
y sobrevive una única vida, quién
copula fielmente su bigamia, quién
se hace trampa y nunca se sorprende,
quién tiene un muerto que todavía lo ama
sin tocarle los sueños inminentes, quién
cabe a la vez en dos lugares diferentes,
quién ha dejado de morir su parte menos útil,
quién, en definitiva, gana la mesa
sin tirar los dados.
PARABOLA DEL INDECISO
Huyó desde sus piernas para adentro
Regresó dé los ojos para afuera
Quiso volver al fin, pero se iba
Quiso exiliarse pero se quedaba.
Estaba siempre donde nunca estaba
Era y no era, lo mojaba el fuego
Lo quemaban las lluvias torrenciales
Alas de viejos pájaros lo anclaron.
Y supo odiar con el amor más puro
Amó también con su traición profunda
Y dijo la verdad. Y estuvo solo
Mintió y mintió. Y entonces le creyeron.
PARABOLA DEL HIJO DE DIOS
Y después que expulsamos a Dios del Paraíso,
hecho como estaba a nuestra imagen y semejanza
cubrió su desnudez con púlpitos y cúpulas,
se ganó nuestras almas con el sudor de su frente
y concibió en el exilio a su único hijo
que no nació pero murió entre sangres y dolores
después de que lo echaron para siempre
los mercaderes del templo.
ALTERNATIVAS
Camino entre dos aguas
la del sediento
la del ahogado.
Entre dos fuegos ando
el del constructor
el del incendiario.
Voy entre dos amores
el del amante
el del despreciado.
Entre dos vidas muero
la del poeta
la del condenado
EL INEXISTENTE
El que no tiene un nombre que ponerse,
un hueso que roer.
El que anda
prestando sed para tomar sus aguas,
pidiendo un ojo en que llorar su llanto,
mendigando su pan con otras hambres.
El que no tiene desnudez. Y en cambio
tiene un lunes después del otro lunes.
El que se fue para volver. Y ha vuelto
con una lluvia menos.
El difunto
al que velaron sin ningún cadáver.
PARABOLA DEL RESUCITADO
Aquel que nunca sabe lo que tiene
porque ha pensado que no tiene nada.
Aquel que nunca sabe lo que pierde
porque ha vivido siempre de contado.
Aquel que nunca sabe lo que busca
porque no se encontró ni lo encontraron.
Aquel que nunca sabe lo que vive.
Aquel que nunca sabe lo que muere.
Aquel que nunca sabe lo que sabe.
Works
Selected Poetry Books
Las canciones salvadas (1957)
El enviado (1958)
La guitarra rota (1967)
La misa (1967)
El extraño (1968)
Poemas comprometidos (1972)
El libro de las paradojas (1976)
El hijo pródigo (1977)
Las canciones salvadas (antología, 1980)
La pájara pinta (1984)
Rompecabezas (1986)
Este pequeño mundo (1996)
Cuando el río suena (1996)
A fuego lento (1998)
Relevo de prueba (2005)
La sombra degollada (2006)
De puertas para afuera (2016)
Short Story Books
Balada del amor que no fue (2019)