Abel Romeo Castillo y Castillo (Guayaquil, January, 22 1904 – Guayaquil, November 11, 1996) was an Ecuadorian writer, historian, biographer, journalist and poet. He was the son of José Abel Castillo Albornoz, the former owner of the newspaper El Telégrafo. Castillo earned a doctoral degree in history in 1931 from the Central University of Madrid, Spain. Among his more notable books are his biographical works on Medardo Ángel Silva, Aurora Estrada i Ayala and José Joaquín de Olmedo, to name a few. His poems "Romance de mi destino" and "Romance criollo de la niña guayaquileña," were turned into popular pasillo songs. Castillo was one of the founders of the Society of Independent Artists and Writers, and of the Guayas branch of the House of Ecuadorian Culture. Castillo was a member of the Ecuadorian Academies of Language and History.
"Romance de mi destino" a poem by Abel Romeo Castillo turned into a song.
"Romance criollo de la niña guayaquileña" a poem by Abel Romeo Castillo turned into a song.
Poems
Romance de mi destino (1935); English translation: The Ballad of My Destiny
Romance de mi destino
The Ballad of My Destiny
Todo lo que quise yo
tuve que dejarlo lejos,
siempre tengo que escaparme
y abandonar lo que quiero,
yo soy el buque fantasma
que no puede anclar en puerto;
ando buscando refugio,
en retratos y en espejos,
en cartas apolilladas,
y en perfumados recuerdos.
Por más que estiro las manos,
nunca te alcanzo lucero;
jugo de amargos adioses,
es mi vaso predilecto;
yo me bebo a tragos largos,
mi pócima de recuerdos;
y me embriagó en lejanías
para acariciar mis sueños.
Nadie sabe como yo,
lenguaje de los pañuelos;
agitándose en los muelles,
sacudiendo el aire trémulo;
nadie como yo nació,
con destino marinero,
la única flor que conozco,
es la rosa de los vientos.
Everything I ever wanted,
I had to leave behind faraway,
I always have to escape
and abandon what I love.
I am the ghost ship
that cannot drop anchor at port,
I wander about looking for shelter
in portraits and in mirrors,
in moth-eaten letters
and in scented memories.
No matter how much I stretch out my hands
I can never reach you, bright star.
Juice of bitter partings
is my favorite glass.
I drink long and deeply
my potion of memories
and become drunk in distances
so as to caress my dreams.
No one knows better than me
the language of handkerchiefs,
fluttering in the docks,
shaking the trembling air.
No one was ever born like me
with a sailor's destiny,
the only flower I know
is the compass rose.
Romance criollo de la niña guayaquileña
Guayaquileña bonita, palomita cuculí,
fragancia de los frutales, granito de ajonjolí,
carnecita de canela, blancor de coco al reír,
pelo de noche sin luna, mirada oscura de añil,
¡no me mires de ese modo porque me voy a morir!

La lluvia va improvisando cortinas de agua sin fin
y las calles enlodadas visten un oscuro gris;
los grillos quieren cantar a lo Ibáñez-Safadí
y en las esquinas los pacos flautean su piulí.
¡Se está cebando el invierno con el pobre Guayaquil!

La niña guayaquileña, suavidad de caniquí,
pabilo que se consume, se está muriendo de esplín.
¡No te mueras, morenita sin antes quererme a mí!
¡Sin que me digan tus labios palabritas de canguil,
sin recostarte en mi pecho y dormirte de perfil!

Cuando la calle se quede color de guachapelí,
guáchara de todo ruido, triste como un amorfín,
yo me apearé de la noche y me llegaré hasta ti
para cantarte al oído eso que deseas oír:
«Me quiero casar contigo, pedazo de serafín».
Pictures
Statue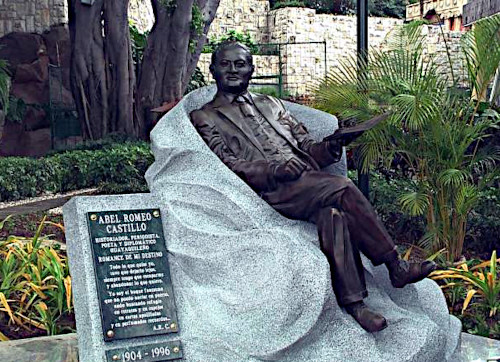 Tomb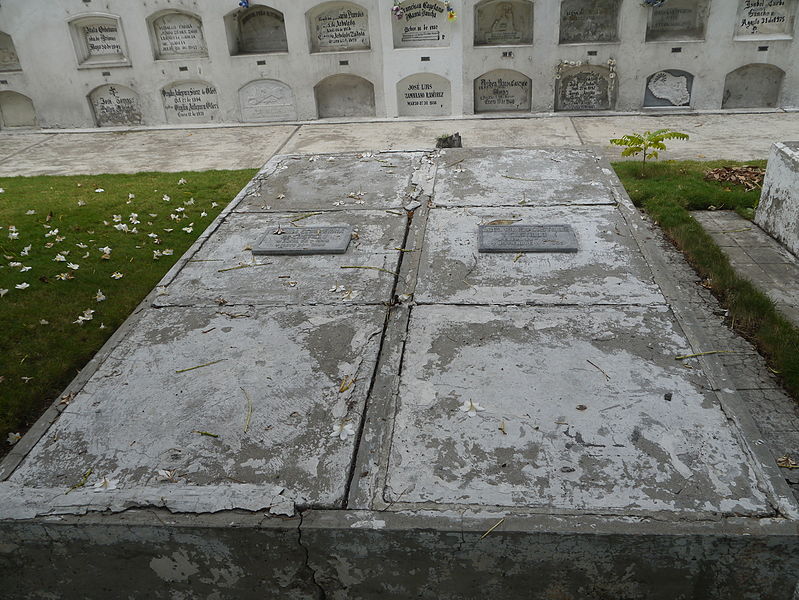 Works
Notable poems which were made into songs
Romance de mi destino
Romance criollo de la niña guayaquileña
Nonfiction/Essays/Poetry
Nuevo descubrimiento de Guayaquil: primer romancero guayaquileño (1938), a book of poems with a foreword by Benjamin Carrion. Read it for free here.
Cuaderno de poemas olvidados (1976)
Los gobernadores de Guayaquil en el siglo XVIII (1931)
Olmedo y Bolivar (1951)
Olmedo: prócer y poeta (1980)
Humboldt y el Ecuador (1969)
Documentos sobre la entrevista de Guayaquil (1972)
El Patriota de Guayaquil y otros impresos (1981)
Ediciones del "Canto a Bolívar" publicadas en vida de Olmedo (1962)
Ecuatorianos ilustres en Costa Rica durante el siglo xix (1958)
Dos guayaquileños precursores de la independencia americana (1963)
Los primeros periódicos guayaquileños (1970)
Olmedo, el político (1946)
Un luchador caído: César A. Naveda (un artículo necrológico y un discurso en homenaje al fundador de la Federación universitaria hispanoamericana de Madrid) (1944)
La supuesta carta de Olmedo a Bolívar es falsa (1950)
Don Pedro Franco Dávila, 1711-1786 (1966)
La imprenta de Guayaquil independiente (1821-1822) (1982)
La independencia de Guayaquil: 9 de oct. de 1820 (1983)
Un luchador caído: César A. Naveda (1944)
Carta , 1961 marzo 14, Montevideo, a Juana de Ibarbourou (1961)
Poesía ecuatoriana del siglo XX: Aurora Estrada i Ayala (1975)
Fray Gaspar de Villarroel (1962)
Medardo Ángel Silva: vida, poesía y muerte (1983)
Bolívar en el pensamiento ecuatoriano (1972)
La imprenta de Guayaquil independiente: 1821-1822 (1982)